Polyurethane Balls comply with food-contact regulations.
Press Release Summary: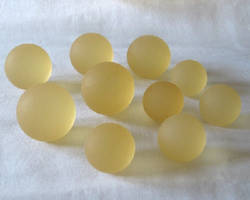 Using polyester resin, with Shore hardness of 70 D, injection molded Premium-Grade Polyurethane Balls are suited for casters, gears, sprockets, and sporting equipment. Resin exhibits fuel and oil resistance while providing high firmness, tensile and tear properties. Natural color resin meets terms with FDA food-contact regulations 21 CFR 177.1680 and 177.2600, subject to limitations of these and any other applicable
more
regulations.
---
Original Press Release:

Premium-Grade Polyurethane Balls from Precision Plastic Ball Now Available



CHICAGO, Ill. – Precision Plastic Ball, the leading supplier of precision grade balls, announced the release of their new product- premium-grade polyurethane balls.



The properties of premium-grade polyurethane balls offer a phenomenal improvement over commonly available rubber balls. For your sifting or grading process, our new polyurethane screen cleaning balls are a must.



"Due to its solid cast manufacturing process, this Polyurethane ball has a much higher performance rating than typical Polyurethane balls," said Anik Shah, President of PPB Ball Co.  "This product has a much higher abrasive resistance and will last longer in harsh environments."



In addition to an extensive inventory,  Precision Plastic Ball offers a distribution program to solve logistical issues of any application by stocking balls and delivering as needed. See this extensive list of the polyurethane ball's detailed description here.



Precision Plastic Ball is proud to carry FDA compliant, DFARS 252.225-7014, DFARS 252.225-7016 products, and LiDAR and FARO compatible Targeting Spheres / Registration Spheres.



For more information, visit www.precisionplasticball.com or contact PPB Ball Co. at 1-847-678-2255 or via email at info@precisionplasticball.com



ABOUT US

Our products are produced according to specifications and are precision ground in virtually all types of materials – plastic, metal, thermoplastics, rubber, ceramics, fluorocarbons, laminates (phenolics) from microns to 6″ size in different grades.



We offer many types of steel balls and are the preferred on-demand supplier to many large companies worldwide.

More from Electronic Components & Devices