Polypropylene Crate pops open to transport items.
Press Release Summary: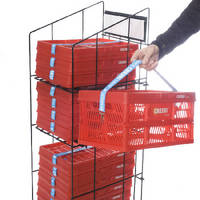 Weighing less than 1 lb with dimensions that prevent users from overloading, Convenience CRESBI® Crate features redesigned integral strap that attaches rigidly to each end of crate and will not slide. Users can quickly pop open crate by lifting strap. Designed to stack when open or collapsed, crate is capable of holding up to 6 plastic bags' worth of groceries. In addition, crate withstands high water temperatures in dishwashers, where 99.9% of bacteria can be eliminated.
---
Original Press Release:

New Space-Saving Crate Meets Transportation Needs



Lightweight "Convenience CRESBI® Crate" pops open to transports items, collapses down to save space.



Verona, KY - Sun Sugar Farms, LLC announced today the official launch of the Convenience CRESBI® Crate. Responding to the market's interests, Sun Sugar Farms redesigned the durable strap that is an integral part of the CRESBI® crate grocery shopping system to not slide. The simplified convenience strap attaches more rigidly to each end of a CRESBI crate and allows the user to quickly pop open the crate by lifting the strap. The crate's lightweight but strong polypropylene material weighs less than a pound and its' dimensions prevent users from overloading a crate to the point where they can no longer carry it.



"I created CRESBI® crates initially to replace plastic grocery bags and cheap reusable ones that can't be cleaned or recycled," says CRESBI® crate creator Linda Fritz. "But as I spoke to people I met, I found that the possibilities are really endless for their use. Over a hundred Convenience CRESBIs were recently purchased by a California Meals on Wheels organization for their volunteers to use in transporting dishes, cups, etc from their car trunks to an individual's home. The director had seen his sister's CRESBI® crates and thought they would make it much easier for his volunteers."



Early adopters of the crates themselves include a major sports channel's video library, a government biology department for storing samples in extreme temperatures (where boxes kept deteriorating) and an olive oil tasting franchise store where they use the smallest crates with a custom insert to bring packaged bottles to the store's front desk.



CRESBI® crates are popular with consumers because they can hold up to six plastic bags worth of groceries, eliminating the hassle of recycling plastic bags or the problem of those bags ending up in landfills. A recent review and prize offering of CRESBI® crates by a popular organizational website received over 800 responses, as much as a Martha Stewart organizer normally would (http://www.simpleorganizedliving.com/2013/01/11/weekend-giveway-cresbi-crates/). CRESBI® crates can withstand the higher water temperature in dishwashers, where 99.9% of bacteria can be eliminated. CRESBI® crate systems are unique from other crates because they are paired with straps, bags, coolers, or a bigger crate to contain them once they are collapsed down. They are designed to stack when open or collapsed and fit into all shopping carts.



The new Convenience CRESBI will allow consumers to make quick trips into the store without having to use the traditional store baskets, taking further advantage of the hygienic aspect the crates offer.



For more information or volume pricing contact:

Linda Lehnhardt

Sun Sugar Farms, LLC

1258 Maddox Lane

Verona, KY 41092

www.CRESBI.com (demo video)

Office: 859-493-0331

Cell: 859-630-2694

Fax: 859-493-0332

linda@sunsugarfarms.com



Although it was financially prohibitive to manufacture the crates in the U.S.A., all other parts of the CRESBI® crate systems are constructed in America and distributed out of the Sun Sugar Farms' Northern Kentucky location. Sun Sugar Farms is also a reseller of other reusable dishwasher-safe green products like Eco-Takeout® To-Go Boxes and Bunch Bags® Produce Bags, they are one of the few commercial growers of edamame in the nation, and the company is active in many charities.

More from Packaging Products & Equipment