Polynoid Linear Actuators replace air cylinders.
Press Release Summary: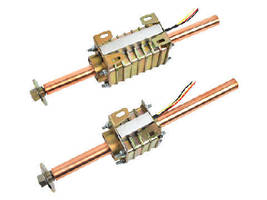 Providing forces up to 100 lb, acceleration to 1 g, and speeds to 90 ips, Polynoid Linear Actuators consist of electrically operated, open loop AC linear induction motors that deliver constant force over entire stroke. Units can run directly off of 115/230 Vac line voltage or with adjustable frequency drive. Direction of travel is reversible by switching 2 of 3 leads. Suited for limited duty cycle applications, actuators offer optional built-in electronic brake for end holding.
---
Original Press Release:

Polynoid Linear Actuators



The AC polynoid is an electrically operated, open loop AC linear induction motor that provides a constant force over its entire stroke.  It can run directly off of 115 / 230 VAC line voltage or with an adjustable frequency drive.  Its direction of travel is reversible by switching 2 of the 3 leads.  



A polynoid is made up of two basic parts, a rod and a stator.  The stator is a series of interconnected coils that are housed in a toothed steel assembly that is available with fins for improved heat dissipation.  An optional holding coil is available for end holding at one or both ends.  The rod is a custom copper clad steel shaft, with tapped mounting holes.  The rod can be supplied in any length.



Polynoid linear actuators are ideal replacements for air cylinders, and can be used to actuate an electrical switch gear, for diverting products off of conveyer belts



• Forces to 445 N [100 Lbs

• Acceleration to 9.8 m/s2 [1g

• Speeds to 2.3 m/s [90 in/sec

• Optional built-in electronic brake (holding coil) for end holding

• Integral rulon bearings

• Low cost, powered by AC line voltage or adjustable speed with an inverter

• Provides long stroke with uniform force

• Stroke limited by end stops on moving rod

• Limited duty cycle applications

• Virtually maintenance free

• Not for positioning applications