Polymide and PEEK(TM) Materials are fully machinable.
Press Release Summary: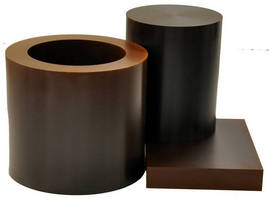 Duratron® D7000 polyimide (PI) material is offered for applications that require thermal performance in 600°F range and are available variety of sheet thicknesses and tube configurations. Homogeneous Semitron® MP370 (modified PEEK) lets builders tailor socket material to application environment and is not subject to soft center or inconsistent physical properties found in injection molded shapes.
---
Original Press Release:

Quadrant Brings New High Performance, Machinable PI and Peek Materials to SEMICON West 2010



(Reading, PA) - Quadrant is launching Duratron® D7000 PI and Semitron® MP370 (a modified PEEK) at the Semicon West 2010 trade show on July 13, 2010. These two new materials will help engineers and designers fill performance gaps with machinable polymers that not only offer excellent performance - but real value.

Duratron D7000 PI is a new, high performance polyimide material that brings the benefits of polymer materials to applications that require thermal performance in the 600° F (315° C) range. While polyimide has been widely used in semiconductor and electronics manufacturing equipment for years, Quadrant's new Duratron D7000 PI range opens up new design possibilities with sheet thicknesses and tube configurations not previously available. It also provides access to these shapes via the strongest worldwide distribution network in the materials industry. Other grades of Duratron PI are available including a bearing grade, Duratron D7015G PI. Many engineers have used polyimide as a "catch all" for high-temperature applications. Quadrant's approach of helping to select the "right" material for each application brings real value to equipment builders by not immediately jumping to ultra-exotic (and ultra-high priced) solutions.

Semitron MP370 gives test socket designers one more option - allowing builders to more closely tailor the socket material to the application environment. Quadrant has already developed a range of machinable Duratron PAI (Torlon®), Ketron® PEEK and Semitron® ESd materials that are industry standards. Semitron MP370 gives a new option to engineers who found generic, ceramic filled PEEK materials interesting but were scared off by the average machinability that jeopardized next-generation; small hole and fine pitch designs. Semitron MP370 PEEK also is not subject to the "soft center" or inconsistent physical properties that can be found in injection molded shapes. Homogeneous Semitron MP370 PEEK is a stable platform for new design ideas.

Quadrant will have these new materials - and the rest of the machinable plastics industry's broadest product line in Exhibit #1435 in the South Hall of Moscone Center on July 13, 2010. Quadrant will have applications specialists and technical experts on hand to answer questions about these new materials and any other plastic design topics.

About Quadrant Engineering Plastic Products

Quadrant EPP materials range from UHMW polyethylene, nylon and acetal to ultra-high per-formance polymers that resist temperatures to over 800° F (425° C). The company's products are used for machined parts in food processing and packaging, semiconductor manufacturing, aerospace, electronics, chemical processing, life sciences, power generation and diverse indus-trial equipment. Quadrant EPP materials are supported by a global team of application develop-ment and technical service engineers.

Full support in evaluating designs and machining of parts is available from Quadrant Engineering Plastic Products' Technical Support Group.

Duratron, Ketron and Semitron are registered trademarks of the Quadrant group of companies. Torlon is a registered trademark of Solvay Advanced Polymers.