Polymers repair and prevent corrosion under insulation.
Press Release Summary: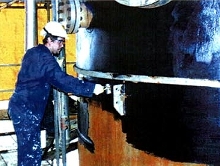 Heat-activated Belzona® 1251 (HA-Metal) and Belzona® 5851 (HA-Barrier) repair and protect metal surfaces suffering from Corrosion Under Insulation (CUI). They apply directly onto hot surfaces, from 158 to 302°F. Both are single component and solvent free. Belzona 1251 paste-grade product rebuilds corroded areas and can be applied with spatula or applicator. Belzona 5851 coating-grade product can be applied by spatula, applicator, brush, or spray.
---
Original Press Release:
New From Belzona: For Repair and Prevention of Corrosion Under Insulation (CUI)

Belzona, a 50-year-old manufacturer of polymer systems used for repair and maintenance applications, has developed two new heat activated systems, Belzona® 1251 (HA-Metal) and Belzona® 5851 (HA-Barrier) - that have been developed specifically to repair and protect metal surfaces suffering from Corrosion Under Insulation (CUI).

One of the unique benefits of using these systems is that they offer CUI protection without interruption to equipment operation as they are designed for application directly onto hot surfaces (158-302°F/70-150°C).

Both products are single component, heat activated and solvent free. They only begin to react and solidify at temperatures above 158°F (70°C). In addition, they are tolerant of less than
thoroughly prepared surfaces providing outstanding adhesion and corrosion protection.

Belzona® 1251 (HA-Metal) is a paste grade product used to rebuild corroded areas. This product can be applied via spatula or applicator. Belzonal 5851 (HA-Barrier) is a coating grade
product that can be applied via spatula, applicator, brush or spray.

Belzona's polymers are ISO-9002 Certified and accepted by every major industry to repair the effects of wear, erosion-corrosion, impact and other forms of damage. For more information on the nearest authorized Belzona Distributor, contact the company at (800) 238-3280. Visit www.belzona.com

More from Controls & Controllers