Polymer Vials offer safe packaging for biopharmaceuticals.
Press Release Summary: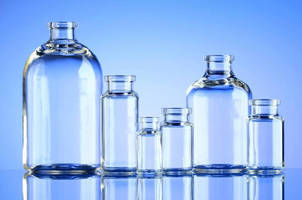 Combining inner and outer layer of Cyclic Olefin Polymer with center polyamide layer, Gx MultiShell Vials offer safety in filling, transportation, storage, and administration of biopharmaceuticals. Vials have high level of oxygen impermeability, making them suitable for packaging reaction-sensitive parenterals. Three-layer structure also maximizes break resistance, while low protein absorption minimizes product losses and eliminates need to overfill vials.
---
Original Press Release:

Gx MultiShell Vials are Safe and Efficient Packaging for Biopharmaceuticals



Düsseldorf/Paris, – The Gx MultiShell vials are the first packaging to incorporate the superior features of polymers, but without the customer facing this material's typical disadvantages. They deliver added value to the pharmaceuticals manufacturer by offering a higher level of safety and cost-effectiveness in the filling, transportation, storage and administration of biopharmaceuticals.



The Gx MultiShell polymer vials are the first packaging product to unite an inner and outer layer of COP (Cyclic Olefin Polymer) with a center polyamide layer. COP has a number of properties that are superior to glass. For example, it reduces the interaction between the highly sensitive biopharmaceuticals and the packaging to the minimum, which means considerably less adsorption.



A new feature, resulting from the special design of the outer layer, is that its barrier properties are up to 40 times more effective than all other polymers. In fact, Gx MultiShell vials have such a high level of oxygen impermeability that they are predestined to be a packaging for reaction-sensitive parenterals. The three-layer structure also substantially increases their break resistance.



Gx MultiShell vials considerably improve the stability and therefore the shelf life of pharmaceuticals. Their break resistance from filling to administration is unprecedentedly high. Lower protein adsorption minimizes product losses and eliminates the need to 'overfill' the vials. These advantages offer impressive added value to pharmaceuticals companies in terms of both safety and cost-effectiveness, particularly if they manufacture expensive preparations for injections or infusions.



The new Gx MultiShell vials were developed in line with the ISO standards, which means that standard rubber closures and flanged caps can be used. The materials used also fulfill the stringent requirements for biocompatibility and naturally all the pharmacopeia requirements for pharmaceutical packaging made of plastic.



GX® and MultiShell® are registered trademarks of the Gerresheimer Group.



About Gerresheimer

Gerresheimer is a leading global partner to the pharma and healthcare industries. The company's special glass and plastic products contribute to health and well-being. Gerresheimer is a global organization with 11,000 employees and manufacturing operations in the local markets, close to customers. It has over 40 production facilities in Europe, North and South America and Asia generating revenue in excess of EUR 1.2 billion. The comprehensive product portfolio includes pharmaceutical packaging products as well as convenient and safe drug delivery systems such as insulin pens, inhalers, pre-fillable syringes, vials, ampoules, bottles and containers for liquid and solid pharmaceuticals with closure and safety systems, plus cosmetic packaging products.



Media Contacts       

Jens Kürten

Director Corporate Communication & Marketing

Telephone: +49 211 6181-250

Fax: +49 211 6181-241

E-Mail: j.kuerten@gerresheimer.com



Marion Stolzenwald

Senior Manager Corporate Communication

Telephone: +49 211 6181-246

Fax: +49 211 6181-241

E-Mail: m.stolzenwald@gerresheimer.com



More from Packaging Products & Equipment