Polymer Tantalum Chip Capacitors are rated to 25 V.
Press Release Summary: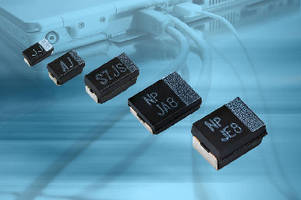 Offering capacitance range of 3.3–470 µF over voltage ratings from 2.5–25 V, vPolyTan™ T55 Series provides capacitance tolerance of ±20% and ultra-low ESR from 500 mΩ down to 15 mΩ at +25°C and 100 kHz. Devices in larger D and V case sizes are optimized for network equipment, computers, and SSDs, while models in compact A and B case sizes are suited for tablets, smartphones, and wireless cards. Featuring lead-free terminations, surface mount capacitors are RoHS-compliant and halogen-free.
---
Original Press Release:

Vishay Intertechnology Extends T55 Series of Polymer Tantalum Chip Capacitors With New Devices in D and V Case Sizes and Higher Voltage Ratings From 16 V to 25 V



Capacitors in the A and B Case Sizes Enhanced With Lower ESR



MALVERN, Pa. – Vishay Intertechnology, Inc. (NYSE: VSH) today announced that the company has extended its T55 series of vPolyTan™ surface-mount polymer tantalum molded chip capacitors with new devices in the D and V case sizes and higher voltage ratings from 16 V to 25 V. In addition, devices in the A and B case sizes have been enhanced with lower ESR.



The capacitors released today are optimized for power management, battery decoupling, and energy storage in computer, telecom, and industrial applications. Devices in the larger D and V case sizes are optimized for network equipment, computers, and solid-state drives, while capacitors in the compact A and B case sizes are ideal for tablets, smartphones, and wireless cards. The series' increased voltage ratings support the 12 V to 20 V range commonly found in supply voltages for computer peripherals.



The low ESR of the T55 capacitors is a result of their polymer cathodes, which offer greatly enhanced performance over manganese dioxide devices. In addition, the devices offer excellent ripple current rating up to 3.9 A IRMS and provide low internal resistance for enhanced charge and discharge characteristics.



Offered in the compact J, P, A, B, T (low-profile B — 1.2 mm max), D, and V case sizes, the T55 series features a wide capacitance range from 3.3 µF to 470 µF over voltage ratings from 2.5 V to 25 V, and a capacitance tolerance of ± 20 %. The devices provide ultra-low ESR from 500 mΩ down to 15 mΩ at +25 °C and 100 kHz, and they operate over a temperature range of -55 °C to +105 °C.



Featuring lead (Pb)-free terminations, T55 series capacitors are RoHS-compliant, halogen-free, and Vishay Green. The devices are compatible with high-volume automatic pick-and-place equipment and offer a Moisture Sensitivity Level (MSL) of 3.



New Ratings Specification Table:


| | | | | |
| --- | --- | --- | --- | --- |
| Part Number | Capacitance (µF) | Voltage (V) | ESR (mΩ) | Case |
| T55B226M016C0070 | 22 | 16 | 70 | B |
| T55B156M020C0070 | 15 | 20 | 70 | B |
| T55B106M025C0100 | 10 | 25 | 100 | B |
| T55A476M6R3C0150 | 47 | 6.3 | 150 | A |
| T55A476M6R3C0070 | 47 | 6.3 | 70 | A |
| T55A336M010C0150 | 33 | 10 | 150 | A |
| T55A336M010C0070 | 33 | 10 | 70 | A |
| T55B685M035C0200 | 6.8 | 35 | 200 | B |
| T55B107M004C0040 | 100 | 4 | 40 | B |
| T55B476M6R3C0040 | 47 | 6.3 | 40 | B |
| T55D337M6R3C0040 | 330 | 6.3 | 40 | D |
| T55D107M010C0055 | 100 | 10 | 55 | D |
| T55D477M004C0025 | 470 | 4 | 25 | D |
| T55D337M6R3C0025 | 330 | 6.3 | 25 | D |
| T55D227M010C0025 | 227 | 10 | 25 | D |
| T55V337M6R3C0025 | 330 | 6.3 | 25 | V |
| T55V227M6R3C0025 | 220 | 6.3 | 25 | V |
| T55V686M010C0060 | 68 | 10 | 60 | V |
| T55D107M010C0025 | 100 | 10 | 25 | D |
| T55V157M010C0025 | 150 | 10 | 25 | V |
| T55V107M016C0050 | 100 | 16 | 50 | V |



Samples and production quantities of the extended T55 series are available now, with lead times of eight weeks for larger orders. Pricing for U.S. delivery starts at $0.16 per piece.



Resources:

Polymer tantalum capacitors

Check T55 D case distributor stock on the Vishay website.

Check T55 V case distributor stock on the Vishay website.

Weekly updates: Sign up for Vishay Newsfeed



Vishay Intertechnology, Inc., a Fortune 1000 Company listed on the NYSE (VSH), is one of the world's largest manufacturers of discrete semiconductors (diodes, MOSFETs, and infrared optoelectronics) and passive electronic components (resistors, inductors, and capacitors). These components are used in virtually all types of electronic devices and equipment, in the industrial, computing, automotive, consumer, telecommunications, military, aerospace, power supplies, and medical markets. Vishay's product innovations, successful acquisition strategy, and "one-stop shop" service have made it a global industry leader. Vishay can be found on the Internet at www.vishay.com.



Link to Datasheet: http://www.vishay.com/ppg?40174  (T55)



Vishay Contact:

Andrew Post

Senior Manager

Global Communications

Vishay Intertechnology, Inc.

Telephone: 1 610 251-5287

Fax: 1 610 889-9429

Email: andrew.post@vishay.com

Follow Vishay:

http://twitter.com/vishayindust   

http://www.facebook.com/VishayIntertechnology



ENDS





More from Electrical Equipment & Systems