Polymer Tantalum Capacitors offer 10 µF nominal capacitance.
Press Release Summary: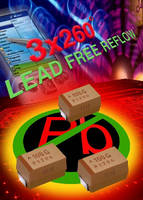 Housed in 6.0 x 3.2 x 2.6 mm package with conductive polymer cathode, TCJ Series features operating voltage of 35 V and is suited for DC/DC converters supplying power for LCD TVs, base stations, rectifiers, switching hubs, routers, and line filters. Surface mount units require derating by only 20% up to 85°C, enabling use at 28 V for additional applications. Operating from -55 to +105°C, capacitors feature halogen-free, environmentally compliant design.
---
Original Press Release:

AVX's High-Voltage SMD Polymer Tantalum Capacitors Reduce Part Count, Provide Design Flexibility



Advanced polymer tantalum capacitor provides industry's highest operating voltage

MYRTLE BEACH, S.C. - AVX Corporation, a leading manufacturer of passive components and interconnect solutions, has developed a surface mount polymer tantalum capacitor that is the first high-voltage p/n device to feature a nominal capacitance rating of 10µF and rated voltage of 35V in the C case size (6.0x3.2x2.6mm), making it the smallest part of its type available. Designated the TCJ Series, the capacitor delivers the industry's highest operating voltage (35V) for a tantalum capacitor with a
conductive polymer cathode. The TCJ Series tantalum capacitors are also more stable
than MLCC capacitors, which can also cause an audible noise due to piezoelectric effect.

The high operating voltage combined with the low profile design, reduces the part
count and provides design flexibility in board layout, as well as aiding the design of thin products such as ultra slim monitors. The TCJ Series is ideal for applications such as, DC/DC converters supplying power for LCD TVs, base stations, rectifiers, switching hubs, routers and line filters, as well as LED power drivers in PC monitors, and LED TVs. The 35V TCJ capacitors also exhibit low ESR and require de-rating by only 20% (up to 85°C), enabling them to be used at 28V for additional applications.

"Meeting the market's demand for maximizing power, performance and functionality while minimizing size and cost, AVX's reliable TCJ Series provides the industry's highest operating voltage in a small C case, while reducing the number of components needed on the PCB." said Dan Lane, marketing manager at AVX. "AVX's continued commitment to product development has enabled this break thru in surface mount conductive polymer cathode technology."

AVX's TCJ Series capacitors also feature a halogen-free, environmentally compliant design. Polymer tantalum capacitors offer several benefits including capability
for higher power output circuits as they work at a higher line voltage and may also
withstand higher ripple currents due to polymer tantalum low ESR technology. The
cathode layer is made of a conductive polymer and there are no oxygen molecules, which
can be easily released making capacitors more resistant to overloading and ignition
enabling low voltage de-rating.

With an operating temperature range of -55°C to +105°C, TCJ Series capacitors
have undergone aging and screening processes to assure high reliability, achieving a low failure rate.

Pricing set at competitive market levels with lead time of 12 weeks.

For more information, contact AVX at 801 17th Avenue South, Myrtle Beach,
S.C. 29578; by calling 843-448-9411; by fax at 843-444-2864; or on the Web at
www.avx.com.

About AVX

AVX Corporation is a leading international supplier of electronic passive components and interconnect solutions with 24 manufacturing and customer support facilities in 15 countries around the world. AVX offers a broad range of devices including capacitors, resistors, filters, timing and circuit protection devices and connectors. The company is publicly traded on the New York Stock Exchange (NYSE:AVX).

More from Packaging Products & Equipment