Polymer-Standards Kit facilitates column calibration.
Press Release Summary: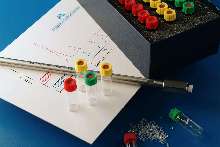 EasiVial kit consists of three 4 ml vials, each containing mixture of 4 pre-weighed polymer standards. Each kit contains 30 color-coded vials and characterization data for each supplied polymer. Molecular weights of polymer standards achieve baseline resolution when used with column configurations and multi-detector GPC systems. User adds solvent to vial, awaits dissolution, and can generate 12-point GPC calibration with 3 injections.
---
Original Press Release:

EasiVial Polymer Standards for Convenient Column Calibration


Polymer Laboratories is pleased to announce a new polymer standards product for GPC/SEC, EasiVial(TM). The EasiVial kit is a pre-prepared, convenient and time-saving product for easy, reliable column calibration. The new EasiVial product consists of three 4ml vials, each containing a mixture of four accurately pre-weighed polymer standards. Each EasiVial kit contains 30 vials (10 of each type) which are color coded for easy identification. Full characterization data for each polymer standard is supplied. The molecular weights of the four polymer standards contained in each vial have been carefully selected to achieve baseline resolution when used with a wide range of column configurations, and when used with multi-detector GPC systems. The mass of each polymer in the vial is known, so that upon addition of a fixed volume of eluent the solution is prepared at a precise concentration, making the product ideal for both conventional GPC and GPC-viscosity calibrations.

The EasiVial system avoids the time consuming procedure of weighing out individual polymer standards, and minimizes solvent dispensing. The user simply adds solvent to the vial, awaits dissolution and can then generate a 12 point GPC calibration with just three injections.

Polymer Laboratories is exhibiting at PittCon 2003 on booth number 671

For more information, please contact Polymer Laboratories Inc, Amherst Fields Research Park, 160 Old Farm Road, Amherst, MA 01002, tel 412 253 9554, fax 413 253 2476, email PLInfo@polymerlabs.com
website www.polymerlabs.com


More from Electronic Components & Devices