Polymer Pipes withstand corrosion and exteme temperatures.
Press Release Summary: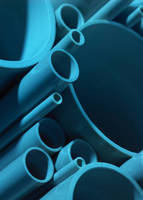 Made from VICTREX® PEEK(TM) polymer, VICTREX Pipes(TM) replace corrosion-resistant alloys used to make pipes and piping systems for extraction and transportation in oil and gas industries where temperatures can exceed 284°F. Sizes range from 0.24-8 in. OD with wall thickness depending on OD, from 0.03-0.2 in. Inherently halogen-free with low levels of smoke and toxic gas emissions, pipes can be joined with connectors, adhesives, and welding equipment.
---
Original Press Release:

Victrex Launches Durable Lightweight Victrex Pipes(TM) Based on Its Victrex® Peek(TM) High Performance Polymer



WEST CONSHOHOCKEN, PA, USA - In response to growing market demand for superior performing pipes in harsh and demanding environments, Victrex Polymer Solutions, world leader in high performance polyaryletherketones, has launched its VICTREX Pipes(TM) product family.

Developed to replace the corrosion resistant alloys (CRAs) used to make pipes and piping systems for extraction and transportation in the oil and gas industries, VICTREX Pipes offer an opportunity to replace CRAs in pipes and piping systems by lining pipes manufactured in other metals.

VICTREX Pipes represent the latest in a long line of material and technical innovation from Victrex. "The launch of VICTREX Pipes is the culmination of six years of intensive research, development, market assessment and customer liaison. VICTREX Pipes can also deliver performance solutions in a broad range of applications beyond the original lined pipes for oil and gas, from industrial to aerospace to electrical sheathing and conduit," said James Simmonite, Business Leader Pipes, Victrex Polymer Solutions. "Victrex has an unrivalled reputation for identifying challenges in key markets and delivering a solution. VICTREX Pipes are a demonstration of this skill and offer a broad range of properties, including chemical, corrosion, abrasion and permeation resistance at high temperatures, in a flexible lightweight format."

The new product line of extruded pipes and tubing made from VICTREX® PEEK(TM) polymer makes full use of the material's performance capabilities, including the ability to withstand extreme temperatures and corrosive conditions and reduce weight. VICTREX Pipes open up new application opportunities, with the capability to deliver greater long-term reliability in the demanding operating conditions found in the high temperature, pressures and corrosive conditions in the oil and gas sector. As well as addressing the needs of the oil and gas sector to search for new fields in more demanding environments, its weight reduction capabilities can facilitate fuel efficiency in the aerospace sector while also addressing the harsh corrosive, temperature and electrical demands of the industrial sectors.

VICTREX Pipes are currently available in a range of sizes, from 6mm (0.24") outer diameter (OD), up to 200mm (8") OD, with wall thicknesses depending on the OD, from 0.8mm (0.03") up to 5mm (0.2"). They are available either as straight lengths or, for smaller diameters, in coiled lengths of up to 3000m (10,000 feet). VICTREX PEEK polymer-based pipes can be joined using a range of connectors and adhesives, and also by using conventional welding equipment. VICTREX Pipes can also be laser marked by using suitable equipment.

"Mounting performance expectations and harsh environments are increasing the emphasis on material selection in application design," said Simmonite. "The properties of VICTREX Pipes provide the option to line metal pipes with VICTREX Pipes as an alternative to expensive CRAs, in challenging applications such as those found in the oil and gas industry, where it is not uncommon to find operating temperatures above 140°C (284°F), in the presence of hydrogen sulfide (H2S), methane, carbon dioxide, brine and crude oil. Drilling deeper to access crude oil reserves requires a material that will withstand the harshest conditions found in these environments."

"Tests have shown that pipes and tubes extruded from VICTREX PEEK polymer display chemical resistance to H2S at high temperature. It is also unaffected after 2,000 hours of exposure to steam at 200°C (392°F)," noted Simmonite. "The exceptional chemical resistance and very low permeability make them ideal for oil and gas applications, where steel pipes may suffer the severely corrosive effects of H2S and carbon dioxide gases, and where existing thermoplastic solutions are reaching the limit of their thermal endurance."

VICTREX Pipes, being made with VICTREX PEEK polymer, are also lightweight and inherently halogen-free, with low levels of smoke and toxic gas emissions, ensuring they not only satisfy the stringent safety, quality and performance regulations within the aerospace industry, but also offer a significant weight reduction potential, when replacing metals.

Additionally, offering electrical insulation, mechanical stability and fatigue strength, as well as chemical, corrosion and hydrolysis resistance at high temperatures, VICTREX Pipes offer potential solutions to the numerous performance requirements of industrial applications, from corrosive and high temperature conditions in chemical, geothermal and mining plant to insulation and protection demands in electrical and industrial sheathing.

Victrex has dedicated in-house pipes extrusion lines, solely for the production of pipes and tubing made from VICTREX PEEK polymer. Having a fully integrated supply chain, Victrex manufactures from raw materials through to finished product, enabling guaranteed product quality, supply, consistency and performance.

The launch of the VICTREX Pipes family is just the latest step on the company's continuous path of innovation and unique solutions based on the proven capability of its high performance VICTREX PAEK family of polymers.

For more information please visit www.victrex.com or www.victrexpipes.com.

Related