Polymer Material suits reciprocating compressors.
Press Release Summary: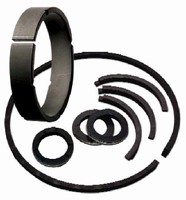 Suited for use in dry environments, Resilon-T(TM) X515 is intended for piston rings, rider bands, and pressure packing in non-lubricated gaseous oxygen applications. It is not abrasive to counterface, including cast iron, hardened steel, or special coatings like tungsten carbide. Product is certified by Federal Institute for Materials Research and Testing, which assures material safety in gaseous oxygen service.
---
Original Press Release:

Resilon-T X515 Material for Dry Environments



RESILON-T X515 MATERIAL FOR RECIPROCATING COMPRESSORS IN DRY ENVIRONMENTS

August 10, 2006, Houston Texas-- Compressor Engineering Corporation (CECO)
announces their Resilon-T(TM) X515 material for piston rings, rider bands and pressure
packing in non-lubricated gaseous oxygen applications. X515 is a proprietary blend of
polymers produced for reciprocating compressors operating in dry environments. This
grade also performs very well in dry argon and air applications.

Resilon-T(TM) X515 is certified by the Federal Institute for Materials Research and
Testing (BAM). The internationally accepted BAM certificate assures material safety
in gaseous oxygen service. X515 is approved from the German based BAM group for temperatures up to 350°F and pressures up to 2900 psi. "Most reciprocating oxygen compressors operate at significantly lower temperatures and pressures than the maximum allowance," says Jim Rauh, Polymer Products Marketing Manager for CECO.

Resilon-T(TM) X515 offers competitive performance without the use of lead fillers.
"Many industry experts consider lead an environmental and health hazard," says Rauh. "Safety is a top priority at CECO, both for our employees and our customers, so we have developed X515 with that in mind."

Although oxygen environments inhibit the formation of PTFE film, Resilon-T(TM) X515 relies on the oxidation of several proprietary fillers to provide excellent lubricity, reduced coefficient of friction and low wear rates. In addition, X515 is not abrasive to the counterface, including cast iron, hardened steel or special coatings like tungsten carbide. Many glass filled grades exhibit low wear rates, but are highly abrasive to the mating surface.

Resilon-T X515 is available oxygen cleaned and packaged to several industry standards including GS-38, Class AA as well as ASTM and Compressed Gas Association specifications. CECO stocks X515 in a variety of sizes for immediate manufacturing. Please consult with your CECO sales representative for recommendations for your
specific operating conditions.

Compressor Engineering Corporation (CECO), headquartered in Houston, Texas, was founded in 1964 and has grown to become the world's largest independent manufacturer of compressor and engine replacement parts. In 1977, CECO opened its New Orleans warehouse and sales office, and in 1980 added a sales office, warehouse, and
repair center and in Odessa, Texas, which expanded again in 2002. Precision Repair - Baton Rouge was launched in 2003. Custom engineered components and repair is only a portion of CECO's solution packages. They also provide customized software solutions, testing, training and consulting. More information about CECO and its Family of Companies is available at www.tryceco.com.

For further information:
Jim Rauh
5440 Alder Drive
Houston, TX 77081
(713) 663-7444
jrauh@ceconet.com
www.ceconet.com

More from Machinery & Machining Tools