Polymer Additive Line includes nucleating/clarifying agents.
Press Release Summary: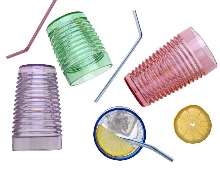 Clearlite NU 004 consists of micronized, sodiumbenzoate-based nucleating agent that increases overall crystallization rate of semi-crystalline polymers. In addition to its nucleating function, Clearlite NU 005 sorbitol-based nucleating and clarifying agent also reduces haze and increases polymer transparency.
---
Original Press Release:

Great Lakes Adds Clearlite Nucleating and Clarifying Agents to Its Polymer Additives Portfolio


INDIANAPOLIS, INDIANA-Great Lakes Chemical Corporation (NYSE:GLK) today announced the introduction of Clearlite NU 004 nucleating agent and Clearlite NU 005 nucleating and clarifying agent to its extensive portfolio of polymer additives.

Clearlite NU 004 is a micronized, sodiumbenzoate-based product that increases the overall crystallization rate of semi-crystalline polymers like polypropylene, polyamide and polyester, resulting in productivity gains and improved mechanical and physical properties. Clearlite NU 005 is a sorbitol-based product that in addition to its nucleating function also acts as a clarifying agent, which reduces haze and significantly increases polymer transparency.

"Nucleating agents are used extensively by Great Lakes' core customers, and we have long been incorporating these products in our Anox® NDB® customized additive blends," commented Henri Steinmetz, executive vice president of polymer stabilizers for Great Lakes. "The addition of nucleating and clarifying agents to the company's own broad portfolio is a logical step that further enhances our service to the polymer industry."

Clearlite NU 004 and Clearlite NU 005 are the first in a new line of nucleating agents to be offered by Great Lakes. Further additions that complement these products will follow in the near future.

Through its Polymer Additives division, Great Lakes offers a full line of UV stabilizers, antioxidants, additive blends and optical monomers, as well as a leading line of flame retardants that include bromine-, phosphorus- and antimony-based flame retardants and other synergists. For more information about these product lines, please visit the Great Lakes Polymer Additives web site at pa.greatlakes.com

Great Lakes Chemical Corporation is the world's leading producer of certain specialty chemicals for such applications as water treatment, household cleaners, flame retardants, polymer stabilizers, fire suppression and performance chemicals. The stock of the company is traded on the New York Stock Exchange. For more information please visit the Great Lakes web site at www.greatlakes.com.

More from Chemicals & Gases