Polygon Creates Ideal Environment for Complex Coating Project at Merrimack Power Station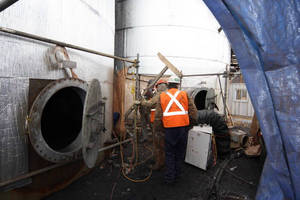 Dealing with brutally cold weather and demanding time constraints, the team responsible for the blasting and coating of six large tanks that comprised a new environmental-friendly pollution control system at a power plant faced a difficult task. Thanks in part to a sophisticated climate control system from Polygon, the complex and challenging initiative at Merrimack Station in New Hampshire was completed successfully to meet the project's ambitious goals.

Merrimack Station, owned and operated by Public Service of New Hampshire (PSNH), sits along the west bank of the Merrimack River in Bow, N.H. The facility burns through 4,000 tons of coal a day as it generates enough power to satisfy the needs of a third of New Hampshire's population.

The plant produces electricity through two boilers that burn coal around the clock at 3,500 degrees Fahrenheit (F). The boilers contain tubes filled with water that, amid the intense heat, rapidly becomes steam. The searing steam screams through tubes to a turbine, where the blast of force is powerful enough to turn the turbine's blades at 3,600 rotations a minute to create electricity.

During the process of generating electricity, the fly ash, or ash produced during the combustion of coal, contains a trace amount of mercury that is emitted into the atmosphere. The plant sought to reduce these emissions to improve the environment and public health, and to meet strict air quality legislation recently passed in New Hampshire.

Adding Pollution Control System

To meet environmental standards, PSNH executives chose to install a wet, limestone-based flue gas desulphurization system (FGD system) to limit both mercury and sulfur dioxide emissions.

In an FGD system, the boiler's exhaust, or flue gas, passes through an electrostatic precipitator - a particulate collection device that removes particles from air using an induced electrostatic charge. This gas is then directed into a large scrubber vessel where it's sprayed with a mixture of limestone and water. A chemical reaction ensues, in which the mix absorbs virtually all the sulfur dioxide and mercury in the flue gas, removing them almost entirely from the emissions stream.

Chicago Bridge & Iron Company (CBI), a leading engineering, procurement and construction company, built the primary processing system for the FGD system that included six carbon steel tanks located side by side and ranging between 24 and 56 feet in diameter.

Tanks Require Protective Coating

Once constructed, the interior of the tanks required a special coating to ensure protection against constant exposure to abrasive and corrosive conditions.

CBI hired G. C. Zarnas, a national industrial and commercial painting contractor based in Bethlehem, Penn., to blast all six tanks and apply a Ceilcoate fiber glass inlay coating to the metal. Bob Mudri, northeast superintendent with G. C. Zarnas, oversaw the project.

"The major threat to the integrity of the coating was the possibility of formation of rust bloom - corrosion that occurs immediately on steel surfaces between the blasting phase and application of the paint, during moist conditions," said Mudri.

To prevent rust formation, and to properly apply and cure the coating, Mudri required the temperature of the metal to be a minimum of 50 degrees F. and humidity levels less inside the tank below 50 percent.

Adding to the challenge - the project was scheduled to begin in the midst of winter in northern New Hampshire, where temperatures can reach as low as minus 15 degrees F.

"I needed a system that allowed us to blast the entire tank without having to apply the coating the same day," said Mudri. "The process of blasting and coating in sections is both costly because of the labor and time involved and leaves overlaps in the coating that can become failure points over time."

Mudri contacted Jeff Cox, lead industrial technician for the northern U.S. region for Polygon (a former Munters company), to design a system to control moisture and temperature during the blasting and coating process. Polygon is a leader in temporary climate control in construction and industrial applications.

"We've been using Polygon for more than 15 years for various blast and coat projects requiring heat and desiccant dehumidification," said Mudri.

Cox analyzed the project parameters and recommended a combination of dehumidification and heat to maintain ideal blasting and coating conditions.
Creating An Ideal Environment

Polygon technicians delivered a 4500 CFM desiccant dehumidifier and two inline electric heaters from the company's Plaistow, N.H., office and configured the equipment near the tanks. Polygon personnel used ductwork to connect the climate control equipment to the tanks via manways at the base of each structure.

Once operational, the equipment provided a dew point differential of 17 degrees F and steel surface temperatures of 50 degrees F. This allowed G.C. Zarnas to blast an entire tank before coating it.

"The larger tanks took up to a week to sandblast and bring the entire interior metal of the tank to a near white finish," said Cox. "After sandblasting, the tank was cleaned and then the coating was applied."

"Without the proper climate, we would have had to put a coat of paint or primer on each day after finishing to prevent rust," said Mudri. "It would have taken much longer - possibly twice as long - because we would have to sandblast, clean and then paint."

Mudri said that work continued even with temperatures dropping significantly during the harsh New England winter.

"It was a brutal winter with temperatures below zero at times," said Mudri. "Even so, conditions inside the tank were always at the necessary standard. "The project was completed as planned thanks to Polygon's assistance and our skilled and dedicated crew."

More from Fluid & Gas Flow Equipment