Polyethylene Piping System operates at low temperatures.
Press Release Summary: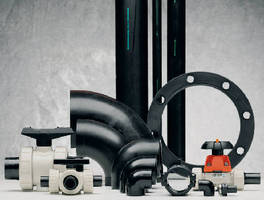 Offered with complete range of pipe, fittings, and valves, PE100 Industrial Polyethylene Piping System exhibits resistance to chemicals as well as impact and works in temperatures down to -58°F. It is available in pipe sizes from 2-36 in. with molded fittings from 2-12 in. and fabricated fittings from 14-36 in. Installation is performed via one of 3 GF Piping System fusion joining technologies, depending on pipe diameter: IR Butt Fusion, Contact Butt Fusion, or Electrofusion.
---
Original Press Release:

GF Piping Systems Introduces Industry's Only Comprehensive Polyethylene Piping System Featuring Superior Operating Performance at Extremely Low Temperatures



TUSTIN, Calif. - July 31, 2009 - In response to market need for a fully integrated system solution, GF Piping Systems has introduced the chemically resistant PE100 Industrial Polyethylene Piping System offered in a complete range of pipe, fittings, valves and fusion joining technologies. The new system features robust mechanical strength and high impact resistance throughout a wide temperature range and is especially suited for cold temperature applications as low as -58ºF. Suitable applications include fluid transport for process cooling water, industrial water treatment, bulk water distribution and chemical processing across a variety of industries.

The new PE100 system is available in pipe sizes from 2-36" with molded fittings from 2-12" and fabricated fittings from 14-36." Also offered is a full line of compatible sized valves including compact tee, ball, diaphragm, butterfly and check styles. Installation is easily performed using one of three GF Piping System fusion joining technologies, depending on pipe diameter. Infrared Butt Fusion is provided for sizes 2-8", Contact Butt Fusion for sizes 2-36" and Electrofusion for systems 2- 26". All three technologies allow a simple, safe and secure heat fusion joining process while providing industry leading controlled butt fusion and weld traceability that meet the expectations of existing customers.

"To our knowledge we are the only manufacturer in North America providing a complete Polyethylene system approach," explains Casey Williamson, GF Piping Systems North America Development Manager. "Other manufacturers produce a single PE component while we produce all required components including the necessary fusion technology. Industrial companies need a single source manufacturer that can supply a complete system to assure safe and reliable installation."

The superior robustness of GF PE100 combined with excellent impact resistance, provides significant advantages in applications where low temperatures would typically degrade or limit physical properties of other plastic materials allowing PE100 to be an excellent, cost effective alternative to traditional metal piping systems. PE100 also demonstrates excellent abrasion resistance, which allows for use in transporting brine solutions, dissolved solids and slurries. Other outstanding performance characteristics include low weight, flexibility and compatibility with a broad range of chemicals. PE100 conforms to ASTM, NSF and FDA standards.

GF Piping Systems supplies a full range of plastic pipe, fittings, tubing, valves, actuators, rotameters, fusion machines, secondary containment, tank linings, heat exchangers, custom products, and sensors and instrumentation for industrial process control. For further information, please contact GF Piping Systems, 2882 Dow Avenue, Tustin, CA 92780-7258; Toll Free (800) 854-4090, Fax (714) 731-6923; e-mail: us.ps@georgfischer.com; Web: www.gfpiping.com

All trademarks are the property of their respective companies.

More from Construction Equipment and Supplies