Polycase's Polycarbonate HD Series Enclosures Pass UL Testing for NEMA/ UL Type Ratings 4X & 6P Applications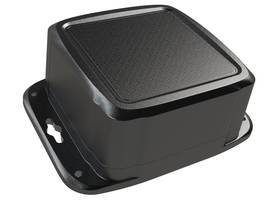 Avon, Ohio, February 1, 2019 - Polycase, a US manufacturer of plastic electronic enclosures, has completed UL testing on their HD Series of polycarbonate enclosures. This testing allows the HD Series to obtain an official UL 508A Listing to Types 1, 2, 3, 3R, 3RX, 3S, 3SX, 3X, 4, 4X, 5, 6, 6P, 12, and 13. It also makes the HD Series one of the most economical NEMA enclosures on the market with pricing as low as $8/each (at 1000 units).
The HD Series NEMA enclosures can be molded in either gray or black polycarbonate plastic. Three sizes are available, ranging from 4.63" x 4.63" up to 6.63" x 4.68". Additional features include molded on surface-mounting flanges, brass inserts in the screw towers, PCB standoffs on both the base and cover plus an extra deep cover that is fastened from the base. This feature allows the cover screws to be hidden when the enclosure is mounted, providing both security and added aesthetics.
With extensive experience in CNC machining and printing, Polycase can apply cutouts and graphics to the HD Series enclosures prior to shipping. For more information on Polycase's value-added services visit http://www.polycase.com/customize-enclosures/.
About Polycase:
Polycase has served the electronics industry since 1951. Polycase continues to grow and innovate, expanding their extensive product line of plastic and metal enclosures and secondary customization services to anticipate electronics designers' needs. The company offers over 2,100 variations of enclosures from simple potting boxes to heavy-duty industrial NEMA-rated electronic enclosures. For more information on Polycase, contact PRmedia@polycase.com or visit www.polycase.com.
For more information, contact:
Polycase
440-934-0444 or 800-248-1233
More from Computer Hardware & Peripherals