Polycase® Brings Full-Color Digital Printing to the Electronic Enclosure Market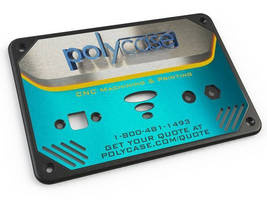 Polycase, a US manufacturer of electronic enclosures, has expanded their value-added services to include digital printing on their plastic enclosures.



Digital printing (also referred to as 4-color process or CMYK printing) ensures accurate full-color printing of text and image files. It prints high resolution, photographic quality images directly onto the plastic. Printing directly onto the enclosure eliminates the complexity and cost of sourcing and applying an adhesive label.



Pad printing or silk screen printing, offered by most enclosure manufacturers, restricts customers to spot color printing, and can become costly when printing multiple colors. Polycase's new digital printing allows electronic enclosure designers to affordably print virtually unlimited colors, gradients or color transitions, and photorealistic images. The ink used in the digital printing process is UV-cured and highly durable, making it suitable for both indoor and outdoor applications.



Our online, instant quoting tool allows you to get your enclosure customization quote whether you need simple text printing or a colorful graphic. Digital printing at Polycase provides a cost-effective, turnkey solution to customizing your end product with a more complete look. Polycase now offers multicolor printing at a lower, more competitive cost than ever before. Printing quotes are available right online via Polycase's Quick Quote tool at www.polycase.com/quote. 



About Polycase:

Polycase has provided packaging solutions to the electronics industry since 1951. Polycase continues to grow and innovate, expanding their product line and services to anticipate electronics designers' needs. The company offers over 2100 variations of enclosures from simple potting boxes to heavy-duty industrial NEMA rated electronic enclosures.  For more information on Polycase, contact PRmedia@polycase.com or visit www.polycase.com.



More from Packaging Products & Equipment