Polycarbonate Resin is designed for LED applications.
Press Release Summary: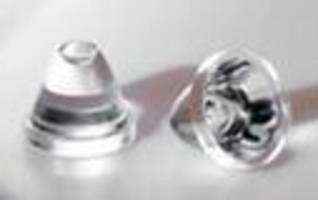 Developed as UV-stabilized material for LED lighting applications, Makrolon® LED2243 is resistant to UV light and exhibits optimal clarity for optic and lens applications. Material is also optimized for light transmission, thermal stability, as well as stability under LED flux.
---
Original Press Release:

Materials for LED Lighting: Bayer Materialscience LLC Introduces UV-Stabilized Polycarbonate Resin for LED Applications



Pittsburgh, August 11, 2009 - As part of its commitment to the growing LED (light emitting diode) lighting market, Bayer MaterialScience LLC has introduced a new grade of polycarbonate resin to its already extensive portfolio. The new grade, Makrolon® LED2243, was developed as a UV-stabilized, high-light transmission addition to Bayer MaterialScience's existing materials for LED applications.

Bayer MaterialScience already offers several grades of polycarbonate for the LED market that feature very high light transmission, high thermal stability, excellent stability under high LED flux and clear flame retardant properties. All of the grades offer specific characteristics ideal for a variety of LED applications.

These grades include:

Makrolon LED2243 - The latest addition to Bayer MaterialScience's LED product portfolio was designed to resist UV light, and to offer superior clarity for optic and lens applications.

Makrolon LED2045 - Our highest light transmittance product, ideal for refractive optics, lenses, and light pipes and guides.

Makrolon LED2245 - Similar to LED2045 - with slightly improved physical properties and lower melt flow index.

Makrolon FR7087 - Believed to be the first clear polycarbonate that passes UL 94 5VA flame rating. Ideal for lenses, covers and optical components.

"Bayer MaterialScience is always developing new products for LED applications because we understand this growing market will continue to demand superior engineered materials," said Gerald DiBattista, market segment leader, IT, Electrical/Electronics Polycarbonates, Bayer MaterialScience LLC. "Our goal is to provide OEMs with materials that offer the highest clarity and quality for their applications and to be the plastics materials solution provider for the entire LED system, not just the premier optical materials supplier. We are pleased to be able to offer these specialty grades for the LED industry."

In addition to the optical LED grades listed above, Bayer MaterialScience offers products for LED enclosures and housings, products with excellent diffusion properties that can hide hot spots while transmitting high levels of light, and highly reflective products that can eliminate secondary process operations, according to DiBattista. "It does not matter if your application is for general illumination or a specialty lighting application, if you need an optic or a diffuser, Bayer MaterialScience has the products and the industry experience to make your LED project successful."

Bayer MaterialScience LLC is one of the leading producers of polymers and high-performance plastics in North America and is part of the global Bayer MaterialScience business with nearly 15,100 employees at 30 sites around the world and 2008 sales of 9.7 billion euros. Business activities are focused on the manufacture of high-tech polymer materials and the development of innovative solutions for products used in many areas of daily life. The main segments served are the automotive, electrical and electronics, construction, medical, and sports and leisure industries.

For more information about Bayer MaterialScience's Makrolon LED2243 polycarbonate resin, call 1-800-662-2927, e-mail PCinfo@bayer.com or naftainfo@bayerbms.com or visit www.bayermaterialsciencenafta.com.

More from Electrical Equipment & Systems