Polyaspartic Coating System for Concrete and Steel Surfaces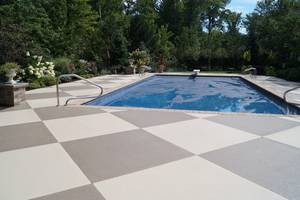 Polyset, a leading manufacturer of high performance coating systems, offers a two-component, fast-curing polyaspartic coating system that can be applied directly to prepared concrete or metal surfaces. Ply-Guard AS exhibits superior color and gloss retention, excellent abrasion, impact, and wear resistance, and excellent Direct-To-Metal (DTM) coating – passing 2,000 hours of testing in salt-fog corrosion chamber (ASTM B117).
Concrete Surfaces
Ply-Guard AS acts as a final clear sealer/finish over decorative concrete surfaces, as well as a UV-resistant sealer/finish coat over safety surfacing systems, outdoor running tracks, swimming pools and patios. Additionally, it's ideal for commercial and industrial flooring, as well as for use in high foot traffic and vehicle/material handling equipment areas.
Steel Surfaces
• Storage tanks
• Bridges
• Marine
• Railcars
• Pipelines
Ply-Guard AS has very good corrosion, chemical, and UV resistance, and can achieve a uniform coating thickness of 2-8 mils DFT per coat that is free of bubbles and pinholes. There is an option to add micro media agents to improve the slip reduction.
ABOUT POLYSET
Polyset is a technology-driven materials company with a philosophy of designing exceptional resin systems to meet the needs of the customer by maximizing the performance of the product within the cost parameters of the project.
As a global market leader for more than 30 years, Polyset's diversified product lines include polyurethane adhesive, elastomer and foam systems for the industrial air filtration industry, state-of-the-art expansion joint systems for the construction industry, protective coatings for the marine and offshore markets, and cationic catalysts for epoxy-curing applications.
Polyset Contact
Denise Czerpak
Marketing Communications Director
More from Electrical Equipment & Systems