Polarizer Adds Clarity to Aven Digital Mighty Scope by Reducing Surface Glare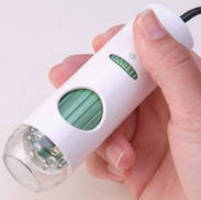 The second generation of a hand-held microscope features a contrast-enhancing polarizer that improves Digital Mighty Scope images.

The compact inspection instrument from Aven, Inc. now provides superior viewing and digital close-ups of polished metal, silicon chips, ceramic, glass and other shiny objects. In addition to industrial quality control, polarized light microscopy also is ideal for examining minerals, polymers and biological materials.

The portable precision scope is like a mini-camera that zooms, providing polarized light views of electronic components, manufacturing parts, circuit boards, crystals and other items. Users can detect hairline cracks or other microscopic defects, as well as identify specimens reliably.

"This is outstanding tool for assembly quality control, materials sciences, geology, chemistry, biology, metallurgy and even medicine," says Mike Shahpurwala, president at Aven, a global optical systems supplier based in Ann Arbor, Mich. "Manufacturing engineers use it to check metal parts and production samples."

The company will demonstrate its advanced Digital Mighty Scope at Pittcon 2010 in Orlando, Fla., next month.

Magnification is adjustable from 10 times to 200 times. A brightness wheel also allows fingertip control of polarized illumination from six white LEDs. Active pixel sensors provide sharp images and accurate color reproduction from the 1.3-megapixel camera.

A USB connection to any laptop or desktop computer lets users edit images, share them and add them to presentations or publications. Microsoft-compatible software is included, with an upgraded version available as an option to provide a broader range of image annotation, measurement and manipulation.

A Microtouch shutter allows image capture convenience without tapping a keyboard, whether Aven's scope is held or mounted on an optional boom stand.

Beyond its industrial, medical and academic applications, Mighty Scope is practical for nature photographers, gemologists, jewelers, curators, appraisers, archivists, collectors and hobbyists.

"The Digital Mighty Scope puts powerful microscopy and imaging into users' hands anywhere," says Shahpurwala.

For more information, call Aven at (734) 973-0099 or visit aveninc.com.

See the Mighty Scope at Booth 727 of the Pittcon 2010 exposition from March 1-4 in Orlando, Fla.

Aven, Inc. manufactures and distributes high-performance precision tools and optical systems for industrial, scientific, research and education applications. More than 750 products include video inspection systems, integrated portable microscopes, video borescopes, task lights, stainless steel tools for lab use and precision hand tools such as tweezers, pliers, cutters, screwdrivers, crimpers, knives and alignment tools. Brands include Mighty Scope, iLoupe, iVue, Accu-Cut and Athlet.

An electronics innovator since 1983, Aven is located in a high-tech corridor of Southeast Michigan and is the parent company of SharpVue, which designs and manufactures integrated digital microscope technology.

More from Controls & Controllers