Polarization Filters are designed for laser applications.
Press Release Summary: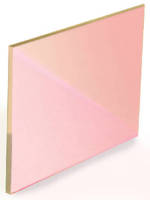 Available for 405/532/635 nm wavelengths, filters combine polarizer and bandpass filter in one optical component. Contrast ratio exceeds 1,000,000:1, and bandpass characteristics include transmission of greater than 93% with steep edges and high out-of-band blocking. Optical quality of ion-beam sputtered thin film technology minimizes scatter, wavefront distortion, and beam deviation. Available with 22 mm and larger aperture, optical components also feature 90º beamsplitter ability.
---
Original Press Release:

Semrock Announces a New Class of Polarization Filters



ROCHESTER, N.Y. July 14, 2009 - Semrock today launched its first products in a new and highly innovative family of polarization filters designed specifically for laser applications. These include "polarizing bandpass filters," which combine a highly efficient polarizer and bandpass filter in a single optical component. These unique, patent-pending filters combine the best attributes of other optical polarizer technologies with the desirable laser clean-up properties of a state-of-the-art bandpass filter, all at highly competitive prices. Semrock's new polarizers boast a contrast ratio guaranteed to exceed 1,000,000-to-1 (extinction ratio < 10-6). At the same time, the high-performance bandpass characteristics include transmission > 93% with steep edges and high out-of-band blocking. The superior optical quality of Semrock's ion-beam sputtered thin film technology offers minimal scatter, wavefront distortion and beam deviation to satisfy even the most demanding imaging applications. These unique optical components come standard with a large 22 mm aperture size (larger is available) and feature the convenience of 90º beamsplitter functionality. All filters have the hard-coated reliability (with a five year warranty) and the high laser damage threshold (> 1 J/cm2) that users have come to expect from Semrock's laser and optical system filters.

"Semrock, long known for its cutting edge filters for the biotech & analytical instrumentation market, is excited to be able to introduce innovative new polarization products that will expand its presence in the laser & optical systems filter market," said Semrock's President Dr. Victor Mizrahi.

These new polarizing bandpass filters are excellent laser source clean-up filters to eliminate the undesired polarization at the laser line and light noise away from the laser wavelength, as well as detection filters to pass a laser wavelength range and block background noise. They are ideal for a wide variety of laboratory laser applications, especially those involving holographic and interferometric systems, as well as laser materials processing, polarization diversity detection in communications and rangefinding, and fluorescence polarization and second-harmonic-generation imaging.

Semrock's polarization filters are available for same-day delivery for the popular 405, 532, and 635 nm laser wavelengths, with additional wavelength ranges and new types of filters launching in the coming months. Semrock has also developed opto-mechanical mounts designed for conveniently mounting the stock beamsplitter filters in standard rotation stages while accessing the full 22 mm clear aperture.

ABOUT SEMROCK:

Semrock, Inc., a Unit of IDEX Corporation, manufactures optical filters that set the standard in performance and reliability for the biotech and analytical instrumentation industries, as well as innovative optical filters for more general laser and optical systems applications. All Semrock optical filters are made with hard ion-beam-sputtered optical coatings. OEM filters are manufactured in volume. End-users benefit from a wide selection of standard catalog products that ship from stock. Semrock's patented and patent-pending products include its highly acclaimed BrightLine® fluorescence filters, state-of-the-art filters for Raman spectroscopy, and other unique filters for lasers and optical systems. Semrock's innovative products, made possible by combining modern ion-beam sputtering with Semrock's proprietary volume manufacturing technology, are covered under a five-year warranty.

Founded in September 2000, Semrock is based in Rochester, New York, a well-known center of optics, and has sales offices throughout the United States. In October 2008 Semrock became a Unit of IDEX Corporation. For additional information about Semrock, its products, and its team of international distributors, visit the company website at www.semrock.com.

More from Controls & Controllers