DC to DC Power Supplies (Converters)
POL Regulators simplify power supply design.
Press Release Summary: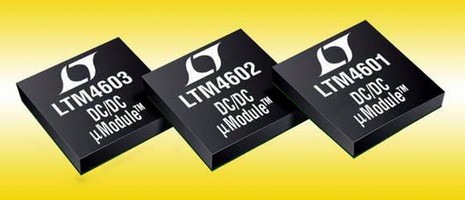 Models LTM4601, LTM4602, and LTM4603 each contain all components required to build 6-48 A point-of-load (POL) regulator, including inductor, power MOSFETs, dc/dc controller, compensation circuitry, and input/output bypass capacitors. Devices are rated for operation from 4.5-28 V in -40º to 85ºC temperatures, and compact 15 x 15 x 2.8 mm LGA package protects solution from external environment. Circuit simulation models and layouts are available for each device.
---
Original Press Release:

New 6A and 12A DC/DC uModules Provide Instant Power Supplies in Compact Packages



Extends uModule Family with Five New Products

MILPITAS, CA - November 6, 2006 - A new family of high voltage, high power DC/DC uModule(TM) point-of-load (POL) regulators from Linear Technology provides new features and various output power capabilities. The LTM4601, LTM4602 and LTM4603 each contain all the components required to build a 6A to 48A point-of-load (POL) regulator, including the inductor, power MOSFETs, DC/DC controller, compensation circuitry and input/output bypass capacitors. The devices' compact 15mm x 15mm x 2.8mm LGA package protects the solution from the external environment and the modules' thermal enhancements provide highly efficient heat removal. The uModule packages provide the size, form-factor and simplicity of a surface-mount IC. Designing with this family of uModule POL regulators requires no knowledge in switchmode power supplies, greatly simplifying the task for a digital circuit designer. Circuit simulation models and layouts are available for each device. The uModules serve a broad range of applications, including industrial automation, RAID and high availability systems, blade servers, medical imaging, wireless basestations, computing, and networking systems.

Each DC/DC uModule is rated for operation from 4.5V to 28V (20V for the standard voltage version). The output voltage is adjustable with one resistor from 0.6V to 5V. The new features added to the new family include phase-lock loop (PLL) synchronization for lower switching noise as well as for PolyPhase(TM) operation for paralleling multiple uModule regulators to deliver higher output current, true differential remote sensing for precision regulation of low voltage, high current loads such as FPGAs, DSPs and ASICs, and tracking/margining for proper startup of multiple voltage rail systems.

The LTM4601, LTM4602, LTM4603 and the previously announced LTM4600 uModule feature a current-mode architecture and provide fast short-circuit protection as well as over- and undervoltage protection. Because of their small size and light weight (1.73g) they can be handled by any pick-and-place machine. In addition, their low profile design is effective in enabling unobstructed air flow especially in very dense systems.

"The addition of these five new power uModules further enables quick and easy design of a range of power supplies," stated Don Paulus, General Manager of the Power Business Group. "Their light weight and low profile packaging allow the uModules to be soldered onto the back side of many circuit boards, making efficient use of board space, and leaving topside space for sophisticated digital ICs such as FPGAs and DDR memory. We anticipate a high level of interest in a broad range of applications."

LTM4601 & LTM4603
The LTM4601 is a full-featured 12A output uModule DC/DC solution. It includes PLL, tracking and margining, and remote sensing. The LTM4603 is rated for 6A and has the same features, footprint and layout as the LTM4601. Each device is offered in two voltage options: 4.5V to 20V or 4.5V to 28V. They are rated for operation from -40ºC to 85ºC.

LTM4601-1 & LTM4603-1
The LTM4601-1 and LTM4603-1 are identical with the LTM4601 and LTM4603, respectively, except the remote sense function is removed. They allow current sharing by paralleling the outputs of multiple devices for higher load current. Each device is offered in two voltage options of 4.5V to 20V or 4.5V to 28V. They are rated for operation from -40ºC to 85ºC.

LTM4600 & LTM4602
The LTM4600 is a 10A uModule DC/DC intended for POL solutions compatible with the reduced feature set. The LTM4602 is rated for 6A and has the same features, footprint and layout as the LTM4600. Each device is offered in two voltage options of 4.5V to 20V or 4.5V to 28V. They are rated for operation from -40ºC to 85ºC. The 1,000-piece price starts at $11.95 each.

Photo Caption: New 6A and 12A DC/DC uModules Provide Instant Power Supplies in Compact Packages.

Summary of Features: LTM4601, LTM4602, LTM4603
o Complete Switchmode Power Supplies with On-Board Inductor and Power Components
o 15mm x 15mm x 2.8mm Pb-free LGA Package
o Current Mode Control
o Fast Transient Response
o Light Weight of 1.73g

About Linear Technology
Linear Technology Corporation, a manufacturer of high performance linear integrated circuits, was founded in 1981, became a public company in 1986 and joined the S&P 500 index of major public companies in 2000. Linear Technology products include high performance amplifiers, comparators, voltage references, monolithic filters, linear regulators, DC-DC converters, battery chargers, data converters, communications interface circuits, RF signal conditioning circuits, and many other analog functions. Applications for Linear Technology's high performance circuits include telecommunications, cellular telephones, networking products such as optical switches, notebook and desktop computers, computer peripherals, video/multimedia, industrial instrumentation, security monitoring devices, high-end consumer products such as digital cameras and MP3 players, complex medical devices, automotive electronics, factory automation, process control, and military and space systems. For more information, visit www.linear.com

LT, LTC, LTM, uModule, Burst Mode and are registered trademarks of Linear Technology Corp.

Press Contacts:

John Hamburger, Director Marketing Communications
jhamburger@linear.com
Tel 408-432-1900 ext 2419

Doug Dickinson, Media Relations Manager
ddickinson@linear.com
Tel 408-432-1900 ext 2233