PoE Multiplexer supports 2.5 Gbps device installations.
Press Release Summary: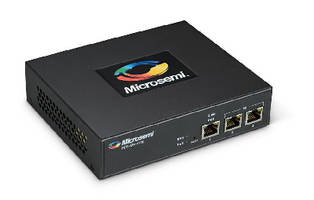 With PDS-EM-8100 Power-over-Ethernet Multiplexer, 802.11ac access points with 2.5 Gbps rates can be installed without need to replace Ethernet switch with 2.5G NBASE-T interface. Unit converts 2 ports of 1G into single port with 2.5G NBASE-T interface and 30 Watts IEEE802.3at PoE. Multiplexer is suitable for fast-growing applications such as enterprise IT, with plug and play/zero configuration needed, and ability to perform remote software upgrades.
---
Original Press Release:

Microsemi Announces Power-Over-Ethernet Multiplexer Offering Compact, Cost-Effective Solution for 2.5 Gbps Device Installations



As Only Device of Its Kind on the Market, New Product Enables Upgrade to 802.11ac Wave II 2.5 Gbps While Keeping 1 Gbps Switch



ALISO VIEJO, Calif., -- Microsemi Corporation (Nasdaq: MSCC), a leading provider of semiconductor solutions differentiated by power, security, reliability and performance, today announced the availability of its PDS-EM-8100 Power-over-Ethernet (PoE) 2.5 Gbps Multiplexer. As the first device of its kind, the unique offering enables installations of new 802.11ac access points with 2.5 Gbps rates without the need to replace the Ethernet switch with a 2.5G NBASE-T interface.



"Our new PoE Multiplexer delivers new capabilities to the market as the first and only product of its kind, enabling a fast, easy and cost-effective upgrade to the newest 2.5 Gbps technology," said Sani Ronen, director of product management for Microsemi's PoE systems. "While the basic 2.5 Gbps copper technology offering uses the existing CAT5E/CAT6 cable for speeds higher than 1G, the need for the switch upgrade was not addressed. Now our new 2.5G Multiplexer enables users to keep the existing 1G switch and get 2.5 Gbps port with no additional time and at a low cost."



Microsemi's new PDS-EM-8100 PoE 2.5 Gbps Multiplexer converts two ports of 1G into a single port with a 2.5G NBASE-T interface and 30 watts (W) IEEE802.3at PoE. The device enables faster adoption of 802.11ac 2.5G by offering a compact, cost-effective and pre-configured solution for 2.5 Gbps product installations such as WLAN access points, small cells and other Internet Protocol (IP) terminal installations.



According to market research firm Dell'Oro Group's April 2016 report titled, "Ethernet Alliance Analyst Hour," there will be approximately 20 million 802.11ac Wave 2 access points in 2018, which will require 2.5G and 5G Ethernet technology. Microsemi's PDS-EM-8100 PoE 2.5 Gbps Multiplexer caters to this growing demand for 802.11ac Wave 2 and 2.5G, offering a simple, fast installation that can deliver up to 30 W of PoE.



As an ideal alternative to using high-end expensive PoE switches, Microsemi's new device caters to the specific needs of the communications market and more specifically, for Wi-Fi 802.11ac technology. It is suitable for fast-growing applications such as enterprise IT, with plug and play/zero configuration needed, and the ability to perform remote software upgrades.



Product Availability

Microsemi's PDS-EM-8100 PoE 2.5 Gbps Multiplexer is available now for $399. For more information, http://www.microsemi.com/products/poe-systems/new-products or contact sales.support@microsemi.com.



About Microsemi's Outdoor and Industrial PoE Portfolio

Microsemi's PoE portfolio includes the PDS-104GO outdoor PoE switch enabling the connection of four powered devices to a network, stand-alone one-port outdoor PoE midspans supporting up to 60 W with AC and DC input power options, the PD-9002GHO two-port hub, the PDS-102GO three-port managed outdoor PoE switch, the PD-OUT/SP11 PoE Gigabit surge protector and the PD-9501GI and PD-9001GI industrial one-port PoE midspans. Microsemi also provides PoE power devices (PDs) and ideal diode bridges that can be used in outdoor installations. More information on the company's wide variety of Ethernet and PoE solutions can be found at http://www.microsemi.com/products/ethernet-solutions/ethernet-and-poe-solutions.



About Microsemi

Microsemi Corporation (Nasdaq: MSCC) offers a comprehensive portfolio of semiconductor and system solutions for aerospace & defense, communications, data center and industrial markets. Products include high-performance and radiation-hardened analog mixed-signal integrated circuits, FPGAs, SoCs and ASICs; power management products; timing and synchronization devices and precise time solutions, setting the world's standard for time; voice processing devices; RF solutions; discrete components; enterprise storage and communication solutions, security technologies and scalable anti-tamper products; Ethernet solutions; Power-over-Ethernet ICs and midspans; as well as custom design capabilities and services. Microsemi is headquartered in Aliso Viejo, California, and has approximately 4,800 employees globally. Learn more at www.microsemi.com.



Microsemi and the Microsemi logo are registered trademarks or service marks of Microsemi Corporation and/or its affiliates. Third-party trademarks and service marks mentioned herein are the property of their respective owners.



CONTACT: EDITORIAL CONTACTS: Farhad Mafie, VP Worldwide Product Marketing, 949-356-2399, Beth P. Quezada, Director, Corporate Communications, 949-380-6102, press@microsemi.com



Web Site: http://www.microsemi.com

More from Sensors, Monitors & Transducers