PoE Midspans support outdoor and industrial applications.
Press Release Summary: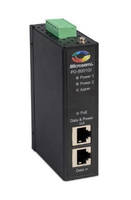 Supplied in IP30 metal case with DIN rail and wall mount options, PD-9001GI and PD-9501GI Midspan Injectors source up to 30 W and 60 W, respectively. Both systems enable remote power for applications including 802.11 APs, pan-tilt zoom cameras, and other AP terminals. Complying with IEEE802.3-2012 Clause 33 Type 2, midspans feature plug-and-play installation, dual DC inputs, 20–60 Vdc input power, operating temperature of -40 to 75°C, and 10/100/1,000 Mbps support.
---
Original Press Release:

Microsemi Introduces Its First Industrial-rated Power-over-Ethernet Midspans



New Systems Leverage Company's PoE Leadership to Support Outdoor Network Infrastructure and Industrial Applications



ALISO VIEJO, Calif., – Microsemi Corporation (Nasdaq: MSCC), a leading provider of semiconductor and system solutions differentiated by power, security, reliability and performance, today announced the availability of its PD-9001GI and PD-9501GI Power-over-Ethernet (PoE) midspan injectors, expanding the company's industry-leading PoE product offering into new industrial and outdoor applications. The PD-9001GI and PD-9501GI industrial PoE midspans are targeted at applications including physical security, WLAN infrastructure, cellular infrastructure and industrial automation.



"We are pleased to offer our first industrial-rated PoE midspans supporting both outdoor and industrial applications that address emerging trends and provide the market with high-quality solutions at an affordable price," said Sani Ronen, director of product management for Microsemi's PoE systems. "In addition to demonstrating our overall commitment to this market, these new midspan systems further extend our broad portfolio of PoE solutions, providing Microsemi with new applications and new revenue opportunities as we deliver our customers the benefits of PoE deployment in multiple types of environments."



According to market research firm Technavio, the number of industrial Ethernet nodes deployed worldwide is expected to grow at a compound annual growth rate (CAGR) of 9.52 percent over the 2014-2019 period. As Microsemi continues to expand its growing industrial-level PoE product portfolio, it will continue to develop unique solutions catered to demanding applications in this market.



Target applications for Microsemi's new devices include industrial and outdoor Internet protocol (IP) cameras, Wi-Fi access points (APs), cellular small cells, wireless backhaul, access control devices including human machine interface (HMI), motors and industrial sensors. The rise in IP cameras in the industrial manufacturing process to maximize video transmission bandwidth while minimizing the deployment costs and amount of wiring required has contributed to the growth of PoE and gigabit Ethernet in factory automation. The PD-9001GI and PD-9501GI conform to IEEE 802.3-2012 Clause 33 "Power over Ethernet," enabling reliable operation and easy plug-and-play with intelligent management of devices. These PoE midspans can be used to easily deploy industrial or outdoor devices over Ethernet while ensuring a low cost of deployment. Both systems have achieved certification for use in industrial and outdoor applications, ensuring safe, reliable performance with maximum protection. In outdoor deployments the PD-9501GI and PD-9001GI are deployed inside enclosures, complementing non-PoE switches.



About Microsemi's PD-9001GI and PD-9501GI

The PD-9001GI and PD-9501GI are both single-port, high power solutions designed for industrial and outdoor applications demanding extended temperature ranges, and are ideal for remote powering of current and emerging high power applications. With the PD-9001GI sourcing up to 30 watts (W) and the PD-9501GI sourcing up to 60 W, both systems  enable remote power for applications including 802.11 APs, pan-tilt zoom (PTZ) cameras and other AP terminals. They comply with IEEE802.3-2012 Clause 33 Type 2 (a.k.a. IEEE 802.3at) and can power Type 1 (a.k.a. IEEE 802.3af) devices. In addition, the PoE midspan injectors feature dual direct current (DC) inputs, support 10/100/1000 Mbps and offer an easy plug-and-play installation.



Additional features of Microsemi's two new industrial PoE midspans include:



--  -40 degrees to 75 degrees Celsius operating temperature range

--  IP30 slim type metal case

--  DIN RAIL and wall mount option (included)

--  LED indication: two input power, PoE, fault

--  Input power: 20-60VDC, terminal block

--  Data input/PoE output of RJ45

--  Supports reverse polarity input

--  Alarm for input power indication

--  Specific electromagnetic compatibility (EMC)/shock/vibration/safety  (UL508)



Product Availability

Microsemi's PD-9001GI industrial PoE midspan is available now and the PD-9501GI will be available in the fourth calendar quarter of 2015. For more information, visit http://www.microsemi.com/products/poe-systems/industrial-poe-products or email Sales.Support@Microsemi.com.



Product Demonstrations at the ASIS International 61st Annual Seminar and Exhibits  Microsemi's technical team will be demonstrating the capabilities of its industrial midspans at the ASIS International 61st Annual Seminar and Exhibits (ASIS 2015) Sept. 28-30 in booth# 438 at the Anaheim Convention Center in Anaheim, California.



About Microsemi's Outdoor and Industrial PoE Portfolio

In addition to the PD-9501GI and PD-9001GI industrial one-port PoE midspans injectors, Microsemi's outdoor PoE portfolio includes stand-alone one-port outdoor PoE midspans supporting up to 60 W with AC and DC input power options, the PD-9002GHO two-port hub, the PDS-102GO 3 port managed outdoor PoE switch and the PD-OUT/SP11 PoE Gigabit surge protector. For more information, visit http://www.microsemi.com/products/poe-systems/poe-systems-for-outdoor-installations.



Microsemi also provides PoE PDs and ideal diode bridges that can be used in outdoor installations. More information can be found at http://www.microsemi.com/product-directory/power-over-ethernet/847-poe-pd-front-end-w-pwm-controller.



About Microsemi's Communications/Network Infrastructure Systems

Microsemi offers a complete portfolio of networking, PoE and precise time and frequency products that span all levels of integration, including integrated circuits (ICs), components for embedded applications, Ethernet switching, PoE or timing and synchronization systems, and turnkey timescales for customers around the world. Offering these devices to customers in the communications, aerospace, defense, IT infrastructure and metrology industries, Microsemi's Ethernet products facilitate high-speed elastic Ethernet services. These products include PoE systems, Ethernet switches, hubs and midspan injectors from one to 24 ports supporting up to 95 watts (W) per port in indoor, indoor-to-outdoor and outdoor configurations, as well as Energy Efficient Power-over-Ethernet (EEPoE™). The portfolio includes the PowerView™ Pro management suite, which allows smart configuration and monitor of PoE in a network.



Microsemi's timing, synchronization systems and TimePictra™ software generate, distribute, apply and monitor precise time used in telecom, enterprise, data centers, and government systems and networks. Microsemi enables customers to build state-of-the-art reliable, secure and precise networks using advanced timing technologies, atomic and synchronization solutions. The timing solutions delivered to customers are based on finely tuned and customized products based on precise timing standards including GPS, IEEE 1588 (PTP), Network Timing Protocol (NTP), SyncE and DOCSIS® timing. To learn more visit http://www.microsemi.com/product-directory/1053-systems-a-sub-systems.



About Microsemi

Microsemi Corporation (Nasdaq: MSCC) offers a comprehensive portfolio of semiconductor and system solutions for communications, defense & security, aerospace and industrial markets. Products include high-performance and radiation-hardened analog mixed-signal integrated circuits, FPGAs, SoCs and ASICs; power management products; timing and synchronization devices and precise time solutions, setting the world's standard for time; voice processing devices; RF solutions; discrete components; security technologies and scalable anti-tamper products; Ethernet solutions; Power-over-Ethernet ICs and midspans; as well as custom design capabilities and services. Microsemi is headquartered in Aliso Viejo, Calif., and has approximately 3,600 employees globally. Learn more at www.microsemi.com.



Microsemi and the Microsemi logo are registered trademarks or service marks of Microsemi Corporation and/or its affiliates. Third-party trademarks and service marks mentioned herein are the property of their respective owners.



CONTACT:

Farhad Mafie

VP Worldwide Product Marketing

949-356-2399



Beth P. Quezada

Director, Corporate Communications

949-380-6102

press@microsemi.com



Web Site: http://www.microsemi.com

More from Computer Hardware & Peripherals