Pocket Binoculars have waterproof, protective lens coating.
Press Release Summary: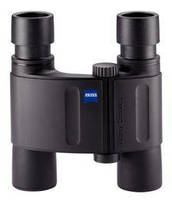 Victory Compact 8x20 T and 10x25 T are available with LotuTec® coating on objective and eyepiece lenses to promote visibility even in adverse weather conditions. Coating lets water bead off lens without residue and facilitates cleaning. Contact angle of over 110º ensures water droplet retains its spherical shape and beads off surface with optimum efficiency. Also, dielectric mirror coatings on Schmidt-Pechan prisms optimize transmission.
---
Original Press Release:

Complete Victory Line Now Features LotuTec® Protective Coating



The Victory Compact 8x20 T* and 10x25 T* are now available with our LotuTec® coating. The result: brilliant visibility, even in the most adverse weather conditions. On the objective and eyepiece lenses the LotuTec® protective coating acts like the surface of a lotus leaf. It allows water to simply bead off the lens without residue and enables significantly easier cleaning. Even in the rain, hunters always enjoy clear visibility. This coating has already been successfully used on eyeglass lenses, binoculars, spotting scopes and riflescopes from Carl Zeiss for many years.

In addition to its long service life, the special advantage of the LotuTec® protective coating from Carl Zeiss is its excellent effectiveness: what is known as the "contact angle" is of decisive importance. The larger the contact angle, the more effective the protective coating becomes. With a contact angle of over 110º, Carl Zeiss sets new standards: this large contact angle ensures that the water droplet retains its spherical shape and therefore beads off the surface with extreme ease.

The new Victory 8x20 T* and Victory 10x25 T* binocular models from Carl Zeiss offer top-class, pocket-size performance in all weather conditions. The compact, lightweight binoculars are so small that they will fit into your shirt or jacket pocket. When exact observation of your near or distant surroundings is a must, they are always ready to hand when you are exploring your hunting area, gamekeeping work, stalking during the daytime or drive hunting.

The high quality equipment is unique: leading edge optics guarantee high transmission and large fields of view. Robust housings with glass fiber reinforcement - in combination with anti-slip rubber armoring - make the Victory Compact pocket binoculars reliable, sturdy companions for hunting. The two Victory 8x20 T* and Victory 10x25 T* models are the only premium pocket binoculars to feature a dirt and water repellent LotuTec® coating, which is so important for hunters.

The two Victory 8x20 T* and Victory 10x25 T* models from Carl Zeiss are high-performance pocket binoculars with outstanding features: dielectric mirror coatings on the Schmidt-Pechan prisms guarantee extremely high transmission. High-eyepoint eyepieces and comfortable sliding eyecups make these models particularly suitable for eyeglass wearers. The new LotuTec® protective coating, used here in pocket binoculars for the first time, greatly enhances the benefit of the binoculars for hunters and nature lovers: water droplets can no longer adhere to the surface, and clear visibility is guaranteed! This makes the waterproof models with their easy-grip rubber armoring even more attractive for the user. Thanks to their small dimensions and low weight, hunters will be pleased to take these binoculars with them on any hunting trip.

The two new models will be available from specialized dealers from August 2009. The recommended prices, incl. 19 % sales tax in Germany, are 570 for the Victory 8x20 T*, and 595 for the 10x25 T*.

A carrying strap and a high quality leather case come standard with the binoculars.

Technical data for the Victory 8x20 T* and Victory 10x25 T* with LotuTec®

Model              8x20 T*      10x25 T*

Magnification:         8x         10x

Objective lens diameter:    20mm        25mm

Exit pupil diameter:      2.5mm       2.5mm

Twilight factor:        12.6        15.8

Field of view at 1,000m/yd:   118m        95m

Close focusing distance:    approx. 2.6m    4m

Diopter adjustment range:    +/- 3D       +/- 3D

Exit pupil distance:      13.5mm       13.5mm

Interpupillary distance:    32-74mm      32-74mm

Objective lens type:      Achromat      Achromat

Prism type:           Schmidt-Pechan   Schmidt-Pechan

LotuTec®:            Yes        Yes

Nitrogen filled:        Yes        Yes

Waterproof:           Yes, 400mbar    Yes, 400 mbar

Height:             93mm        110mm

Width:             97mm        97mm

Weight:             225g        250g

Warranty:            10 years      10 years

Cat. No.            522078       522079

Franziska Geithe
Marketing and Communications
Carl Zeiss Sports Optics GmbH
Phone: +49 6441 404-194
Fax: +49 6441 404-162
E-Mail: f.geithe@zeiss.de

More from Material Handling & Storage