PNM Becomes First Utility Worldwide to Deploy Industry-Leading Technology to Benefit Customers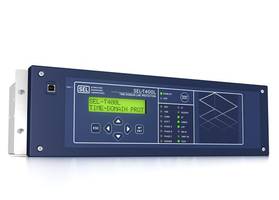 Albuquerque, N.M., Dec. 26, 2018 /PRNewswire/ -- PNM, the wholly-owned New Mexico utility subsidiary of PNM Resources (NYSE: PNM), has become the first utility worldwide to implement leading-edge technology on its high-voltage transmission lines. A new type of protective relay, developed by Schweitzer Engineering Laboratories (SEL), provides significant enhancements to the reliability and functionality of the PNM grid. This advanced technology improves service to customers while reducing annual maintenance costs.
PNM and SEL used digital simulations to test the new technology under real-life operating scenarios with numerous variables before implementing the new relays on a 345kV transmission line in New Mexico. The implementation of this equipment and its standardized design across the PNM system eliminates the need for technicians to familiarize and troubleshoot various design configurations, reducing the time needed to restore power to customers after an outage and translating into lower maintenance costs to customers.
"We are proud to be the first utility to fully integrate this grid technology across our system," said Pat Vincent-Collawn, PNM Resources chairman, president and CEO. "This project is a clear example of how investment in technology to modernize and advance our infrastructure can improve the service we provide to customers while reducing costs."
More information about the use of this technology to modernize the PNM grid can be found on the SEL website at: www.selinc.com/featured-stories/pnm.
Background:
PNM Resources (NYSE: PNM) is an energy holding company based in Albuquerque, N.M., with 2017 consolidated operating revenues of $1.4 billion. Through its regulated utilities, PNM and TNMP, PNM Resources has approximately 2,580 megawatts of generation capacity and provides electricity to more than 773,000 homes and businesses in New Mexico and Texas. For more information, visit the company's website at www.PNMResources.com.
Contacts:
Lisa Goodman
505-241-2160
Ray Sandoval
505-241-2782
Source PNM Resources, Inc.
Web Site: http://www.pnmresources.com
More from Mechanical Components and Assemblies