PneumaticScaleAngelus to Present Latest Offerings at Pack Expo 2011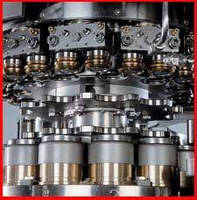 AKRON, Ohio - PneumaticScaleAngelus, a global provider for can seaming, capping, dry filling and liquid filling, will promote its latest technology and equipment at Pack Expo 2011, September 26 to 28, at the Las Vegas Convention Center in Nevada.
A team of professionals from PneumaticScaleAngelus will be available in Booth #C-500 throughout the show. Featured machinery will include:

M-Series Can Seaming and Can Manufacturing Machines

The PneumaticScaleAngelus M-Series machines boast the fastest changeover, most robust construction and latest key features available. The M-Series machines are available for a wide range of cans, ends and speed requirements. It has optional-variable flow
gassing control reduced giveaway and oil-cooled upper turret for overall lower operating temperature. M-Series is a highly corrosion resistant machine with stainless upper turret and stainless clad base.

It has optional automatic washdown along with the water separation and particle filtrations. It also features easy and fast access to adjust lower chuck springs. Other features include:


Higher output per seaming spindle on 8M and 12M


Rapid changeover features make can and end changeovers dramatically shorter in duration:

- Support column located outside of discharge table

- One piece discharge turret for easy installation

- Modular Cover feed assembly for one piece removal and installation


Easy and fast access to adjust lower chuck springs


Sanitary tubing design of seamer Clean in Place system


Centralized and modular design of lubrication system reduces maintenance time

Extended Shelf Life (ESL) Dairy Filling

PneumaticScaleAngelus is pleased to announce that its Mass Flow and Net Weight Fillers have been certified to display the 3A symbol as it applies to fillers and sealers of containers for Fluid Milk Products (Standard 17-10; Authorization No. 1573).

PneumaticScaleAngelus is also a company member of the European Hygienic Engineering & Design Group (EHEDG). ESL filling is creating a system that sterilizes a container, fills a container, and closes a container all in a clean environment, thus reducing microorganisms to populate. It features a non-contact laminar mass flow filling resulting in very low foam generation and very high accuracy which fills 200/cpm gallons of milk. Other features include:


Application of liner directly to container with punch and die tool


Liner material aluminum, PET, PE and Lift & Peel System to sanitize liner for Log 6 reduction


RABS enclosure with HEPA/UV treated filters


Sterilant and sterile water rinsers for bottle pre-treatment


Cap sterilization


Dry container and cap sterilization


Cleaning In Place skids

ABOUT BARRY-WEHMILLER

Barry-Wehmiller Companies, Inc. is a diversified global supplier of engineering consulting and manufacturing technology solutions in packaging, corrugating and paper converting across a broad spectrum of industries. Barry-Wehmiller¡¦s balanced approach to the market is made possible through nine interactive divisions: Accraply, Inc., a leading manufacturer of automatic labeling and label converting and finishing systems; Barry-Wehmiller Design Group, Inc., a premier supplier of manufacturing automation, facility design, and other engineering consulting services; Barry-Wehmiller International Resources (BWIR), a global provider of business and technology solutions to the mid-market manufacturing domain; FleetwoodGoldcoWyard, Inc., a leading producer and supplier of automated can end and product handling equipment, advanced conveyance technology, palletizers, depalletizers, and process equipment; HayssenSandiacre, a form/fill/seal technologies and services leader for more than 100 years; MarquipWardUnited, Inc., a leading manufacturer of equipment for the corrugated and folded carton industries; Paper Converting Machine Company (PCMC), providing high-performance converting machinery for the global tissue, nonwovens, package printing, and envelope manufacturing industries; PneumaticScaleAngelus, a global provider for filling, capping, can seaming, labeling, and centrifugation; and Thiele Technologies, Inc., a leading producer of placing, feeding, bagging, cartoning, case packing, and palletizing equipment.

In fiscal year 2010, Barry-Wehmiller leveraged a strategic combination of organic and acquisition growth to achieve revenues surpassing $1 billion. Barry-Wehmiller now employs more than 5,500 team members in over 65 locations worldwide.


More from Agricultural & Farming Products