Pneumatic Valve Manifold System features uniform interface.
Press Release Summary: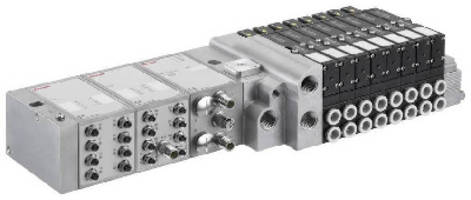 With flow rate of 0.4 Cv and valve width of 20 mm, Series HF02-LG can accommodate up to 16 valve positions in one unit. Uniform connection technology facilitates integration of pneumatics in variety of automation concepts, while modular design enables use of multiple plugs and connections for all common field buses. Designed for internal working pressure of 36-145 psi, manifold system operates from 32-122°F. Up to 32 coils can be actuated with 44-pin D-Sub high-density plug.
---
Original Press Release:

Highly Modular Valve Manifold System



Series HF02-LG pneumatic valve system from Rexroth with uniform interface

Thanks to its high level of modularity, the new HF02-LG can be integrated in a wide variety of automation concepts.

The HF02-LG series from Rexroth rounds out its standardized range of HF valve manifold systems with a weight-optimized base plate valve featuring high flow rates. The dependable HF family is now available with flow rates of 0.4Cv, 0.7Cv, and 1.4Cv and can be actuated with just one bus connection for all series.

The uniform connection technology for Rexroth valve manifold systems simplifies integration of pneumatics in a wide variety of automation concepts. Thanks to its modular design, the system enables use of multiple plugs and connections for all common field buses, with and without I/O signal processing and supports an integrated Drive & Diagnostic Link. The uniform interface for common field bus control (B-design) permits a simple and clear combination of various valve manifold systems, as well as standardized programming.

The new HF02-LG valve manifold system benefits from a free selection of connection technology. With a flow rate of 0.4Cv with a valve width of 20 mm, the system can accommodate up to 16 valve positions in one unit. An exceptionally modular design makes it possible to change the electrical controller without having to disassemble the valve manifolds. Electrical linking with other valve manifold systems, such as the HF03-LG and the HF04-XF, or individual valves, is simple using Rexroth's module extension.

Robust parallel plug connectors in the base plates facilitate conversion of an HF02-LG valve unit and the plug-in valve makes it possible to exchange valve functions quickly and easily. Another special feature is that the customer can convert the pilot from an internal pilot control to an external pilot control directly on the left end plate.

The HF02-LG provides all valve functions: 2 x 3/2, 5/2, and 5/3. Dual-pressure operation is possible using separate exhaust connections for channels 3 and 5. Pressure zones can be limited to one valve. In principle, the valve manifold system has been designed for an internal working pressure of 36 to 145 psi and can be operated in a temperature range of 32 to 122°F. Up to 32 coils can be actuated with the 44-pin D-Sub high-density plug.

Rexroth provides a user-friendly configurator to assist designers who would like to integrate this valve manifold system in their installation. This online tool lets you easily configure valve units with all their accessories and displays them with a pneumatic circuit diagram or dimensional drawing. The latest enhancement: The user can download the configured unit as a 3-D PDF in which the unit can be rotated on the screen and viewed from all sides.

The HF02-LG valve manifold system is ideal for applications requiring a high level of modularity, such as in machine tools, special-purpose machines, welding technology, or polymer processing.

Bosch Rexroth AG is one of the world's leading specialists in the field of drive and control technologies. Under the brand name of Rexroth the company supplies more than 500,000 customers with tailored solutions for driving, controlling and moving. Bosch Rexroth is a partner for industrial applications and factory automation, mobile applications and renewable energy.

As The Drive & Control Company, Bosch Rexroth develops, produces and sells components and systems in more than 80 countries. In 2009 Bosch Rexroth, part of the Bosch Group, achieved sales of around $5.7 billion
(4.1 billion Euro) with 34,200 employees.

For more information please visit: http://www.boschrexroth-us.com/brp


More from Mechanical Power Transmission