Pneumatic Vacuum enables safe cleaning of combustible dust.
Press Release Summary: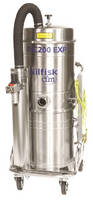 With no moving parts, 26 gal Model VHC200 EXP is suited for continuous-duty applications. Unit features all stainless steel construction and comes with static grounding wire. Optional HEPA filtration ensures 99.97% of particles are retained, down to and including 0.3 microns to prevent combustible particulate from exhausting back into air. Vacuum is ATEX-approved and suitable for use in Class I, Group D and Class II, Groups, E, F, and G locations.
---
Original Press Release:

Nilfisk Industrial Vacuums Introduces New Combustible Dust-Safe Pneumatic Vacuum



The VHC200 EXP officially debuts at IMTS 2012, September 10-15, in Chicago

Morgantown, Pa., - Nilfisk Industrial Vacuum Division introduces the Nilfisk CFM VHC200 EXP air-operated vacuum, providing manufacturers with a safe pneumatic option for combustible dust housekeeping and preventative maintenance. With no moving parts, the 26-gallon pneumatic VHC200 EXP can be used in continuous-duty applications with few maintenance costs. This vacuum is ideal for general cleaning tasks, including heavy-duty applications involving denser types of debris and designed to meet the highest level of operational safety. The vacuum will make its public debut at the International Manufacturing Technology Show, September 10-15, Chicago, in Booth E-5826.

Vacuums powered by compressed air are excellent alternatives to explosion-proof / dust ignition-proof vacuums for combustible dust applications where electricity is unavailable or undesirable. However, just because a vacuum is air-operated does not mean it is explosion-proof. Air-operated vacuums for hazardous locations should be suitable for use in classified environments. The VHC200 EXP is ATEX-approved for collection of combustible dusts and suitable for use in Class I, Group D and Class II, Groups, E, F, and G locations.

Other features and benefits include:

· All stainless steel construction including container, filter chamber and trolley to prevent a dangerous percussion arc that might cause a spark;

· Static grounding wire to ensure a high level of conductivity for static dissipation;

· Optional HEPA filtration ensures 99.97% of particles are retained, down to and including 0.3 microns to prevent combustible particulate from exhausting back into the air;

· Antistatic filter with large surface area and external filter shaker guarantees high filtration efficiency and prevent premature clogging; and

· Non-sparking conductive accessories to meet a wide range of hazardous cleaning needs.

Nilfisk also offers an electric line of explosion-proof/dust ignition-proof vacuums. For more information on combustible dust preventative maintenance, visit www.explosion-proofvacuum.com or call 1-800-645-3475.

About Nilfisk Industrial Vacuum Division

Nilfisk Industrial Vacuum Division, also known as Nilfisk-Advance America, Inc., is one of the largest providers of cleaning equipment in North America. From its Morgantown, Pa. headquarters, Nilfisk Industrial Vacuum supports three brands of industrial vacuum cleaners: Nilfisk, Nilfisk ALTO and Nilfisk CFM. Equipped with exceptionally efficient filtration systems and user-friendly features, the company's vacuums play a critical role in thousands of manufacturing facilities and industrial processes across North America. Supported by a direct sales force and extensive dealer network, Nilfisk Industrial Vacuums has solved a variety of cleaning challenges, including combustible dust, general maintenance, overhead cleaning, abatement, process integration, laboratory/cleanroom control, and more. For more information, visit www.nilfiskindustrialvacuums.com.

MAXINE CHANG

Marketing & Sales Support Specialist

Nilfisk Industrial Vacuum Division

Direct: +1 (610) 913-5365

Fax: +1 (610) 286-7350

Maxine.Chang@nilfisk.com

www.NilfiskIndustrialVacuums.com

More from Mechanical Components and Assemblies