Pneumatic Turbine Vibrator moves bulk solids.
Press Release Summary: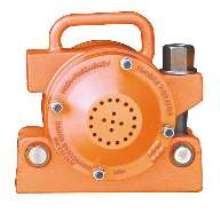 MARTIN® WHIRLWIND(TM) High-Frequency Turbine Vibrator uses urethane-encapsulated turbine to output over 10,000 force pounds with noise levels well within OSHA limits. Built-in handle allows one-worker portability for use in railcar unloading or for consolidation of pre-cast concrete or refractory. Unit mounts to cradle lug bracket or railcar wedge, or can be permanently mounted.
---
Original Press Release:

More Power, Less Noise from the New MARTIN® WHIRLWIND(TM) Turbine Vibrator


To provide powerful forces to move or consolidate bulk solids, Martin Engineering, Neponset, Illinois has introduced the MARTIN® WHIRLWIND(TM) High-Frequency Turbine Vibrator.

The unique urethane-encapsulated turbine in the new MARTIN® WHIRLWIND(TM) High-Frequency Turbine Vibrator produces more power with less noise than any comparable high-force/high-frequency pneumatic turbine vibrator. With output of over 10,000 force pounds (45 kN), the MARTIN® WHIRLWIND(TM) Turbine Vibrator doubles the output of the most powerful competitive models.

With its built-in handle, the MARTIN® WHIRLWIND(TM) Turbine Vibrator provides "One-Worker Portability" for use in railcar unloading or for consolidation of pre-cast concrete or refractory. Units mount easily to a portable mounts such as a cradle lug bracket or railcar wedge bracket, or can be used in permanent mounts.

The MARTIN® WHIRLWIND(TM) Vibrator's low rate of air consumption per force output lowers operating costs. It will reduce maintenance costs, as its long-life, high-speed sealed bearings never need lubrication.

The MARTIN® WHIRLWIND(TM) Vibrator is more quiet in operation too. Testing shows noise levels from 6 to 10 dB less than competitive models and well within OSHA noise limits.
Since 1944, Martin Engineering has made bulk materials handling cleaner, safer, and more productive. MARTIN® Products are available from authorized representatives around the world.

For More Information
contact: Andy Marti
(309) 594-2384 Ext. 278
andym@martin-eng.com

More from Electrical Equipment & Systems