Pneumatic Transporter suits space-limited applications.
Press Release Summary: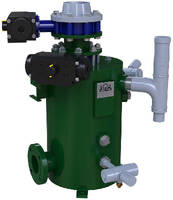 Featuring low-profile design, PLUG FLO® MINI offers solution for applications with low sand transfer capacity requirements, short distance material transfer pipeline runs, and little headroom under material feed unit. Transporter can also replace high-maintenance mechanical conveyors such as bucket elevators and screw-type conveyors. Gentle on sand and pipelines, unit minimizes material degradation and helps extend pipeline lifetime.
---
Original Press Release:

Alb Klein Technology Group, INC.Announces the NEW PLUG FLO® MINI Pneumatic Transporter!



PLAIN CITY, OH – Alb Klein Technology Group, Inc. (Klein®) recently introduced the new low-profile PLUG FLO® MINI pneumatic transporter. It offers all the incredible advantages of Klein's exclusive PLUG FLO® pneumatic conveying technology in a compact size, allowing it to be installed where space is limited.



Klein's President, Chris Doerschlag, said: "Our new compact size PLUG FLO® MINI pneumatic transporter fits where other transporters don't; and it uses our proven and reliable PLUG FLO® pneumatic transporter technology – which is gentle on sand, gentle on pipelines, and gentle on O&M budgets, ultimately resulting in better cores, molds, and castings."



The new low-profile PLUG FLO® MINI transporter is a cost-effective solution for applications with lower sand transfer capacity requirements, shorter distance material transfer pipeline runs and where there is little headroom under the material feed unit. The PLUG FLO® MINI is also an ideal replacement for less reliable high-maintenance mechanical conveyors such as bucket elevators and screw-type conveyors.



Advantages of the new Klein® PLUG FLO® MINI transporter:

• Compact low-profile design – fits in tight spaces

• Reduced operating & maintenance costs

• Minimal material degradation

• Transfer pipelines last longer

• Increased energy savings w/ lower air consumption

• Better quality cores, molds and castings

• Easily installed and low maintenance

• Simpler, straight-forward controls



About Klein®:

Klein® specializes in the production of sand and related material handling equipment, including  Klein's popular low-velocity PLUG FLO® pneumatic sand transporter systems; vertical rotary type STATORMIX™ and/or bowl type Vibratory batch core sand mixers; sand heaters/coolers; ultra-accurate binder/additive bellow-style pump and metering distribution system; direct air operated AKO pinch valves, green sand moisture control management system; and its Cerafume® high temp emissions control equipment. Klein® primarily serves sand handling and high-temp pollution control needs of the foundry industry and other manufacturing industries in the USA, Canada, Mexico and South America. 



For more information, go to: www.albkleinco.com

More from Transportation Industry Products