Pneumatic Pick and Place Unit operates at up to 120 cycles/min.
Press Release Summary: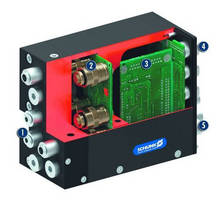 PPU-P comes with valve control unit (VCU) that minimizes compressed air and energy consumption while accelerating cycle frequency; 5–9 micro valves use one air line connected to back of VCU. With cycle times down to 20 msec, VCU can also control gripper on PPU-P. Horizontal and vertical motion of PPU-P unit overlap and are positively driven by curved roller cam. At 145 mm horizontal stroke, 45 mm vertical stroke (20 mm linear), and up to 1 kg moving mass, unit achieves 0.63 sec cycle time.
---
Original Press Release:

Rapid Pick & Place with the New PPU-P and VCU



With up to 120 cycles per minute, the PPU-P from SCHUNK is the fastest pneumatic Pick Place Unit on the market. Thanks to the valve control unit, compressed air and energy consumption is minimized, while the cycle frequency is accelerated. Depending on the unit, five to nine integrated micro valves use only one air line, which is connected to the back of the VCU. The VCU can also control the gripper on the PPU-P with the gripping cycle times down to 20 mille seconds.



In contrast to conventional pneumatic Pick & Place Units, the horizontal and vertical motion of the robust PPU-P unit overlap, and are positively driven by a curved roller cam, which reduces cycle times by one-third. At a 145 mm horizontal stroke, 45 mm (20 mm linear) vertical stroke and up to 1 kg moving mass, the unit achieves a cycle time of 0.63 s including 2 x 50 ms gripping time. Therefore the unit is suitable for various handling and assembly tasks in the field of electronic industry, medical technology, and other industries, where small components are assembled.



In order to balance build-up of tolerances, the horizontal stroke can be adjusted by up to 12 mm per side. Moreover, both end positions can be adjusted by 15 mm, independent from each other, and differences in height between the Pick & Place position can be balanced without an intermediate stop.



Due to its bolt pattern, the PPU-P fits smoothly into SCHUNK's modular assembly automation system, and numerous gripping modules and rotary actuators can be easily combined for any project at hand.



Media Contact

Alexandra Altvater

Marketing Coordinator

919-767-2010

Alexandra.Altvater@us.schunk.com



Technical Contact

Jesse Hayes

Automation Group Manager

919-767-1975

Jesse.Hayes@us.schunk.com

More from Transportation Industry Products