Pneumatic Marking Machines handle up to 10 cps.
Press Release Summary: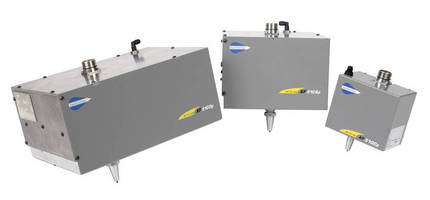 Models XF510Sp and XF510Dp pneumatic micropercussion marking machines offer fields of 100 x 80 mm and 200 x 80 mm, respectively. Devices include optimized marking head shuttle trajectory, motor control system, micromechanical components, as well as 8 inputs and 4 outputs and RS232/USB/Ethernet ports. They are controlled by UC500 remote control unit and incorporate control software based on pictograms. Supporting 14 types of keyboard, systems can also execute DataMatrix(TM) code in under 5 sec.
---
Original Press Release:

XF510Sp and XF510Dp with Marking Fields of 100 x 80 mm and 200 x 80 mm



With marking fields of 100 x 80 mm and 200 x 80 mm respectively, the XF510Sp and XF510Dp models further enrich the Technifor range of pneumatic micro-percussion marking machines. They are the fastest in the world in their category, and they can mark up to 10 characters per second, twice as many as the previous generations. They are compact and they feature multiple communications interfaces, which makes them even easier to integrate. The XF510Sp and the XF510Dp provide ideal solutions for precision marking applications in series production: mechanical engineering, motor vehicle manufacture, metalworking, pneumatic components, electronic components, sensors, etc.

From the design stage on, the marking speed was the main priority set for the XF510Sp and XF510Dp models. Firstly, latest-generation electronic components were selected to reduce calculation times. Secondly, the marking head shuttle trajectory was optimized. Lastly, a new motor control system was installed. New micromechanical components were also integrated. The XF510Sp and XF510Dp marking machines can mark up to 10 characters per second, and they execute a DataMatrix(TM) code in under 5 seconds.

The XF510Sp and XF510Dp machines are easy to use. Their UC500 remote control unit is designed for use all over the world. Its interface currently features 20 languages; it handles 14 types of keyboard, and it is powered by a universally compatible system for supplies ranging from 90 to 250 V. A production line designed in one country can thus be exported anywhere in the world without any modifications. The control software is also very user friendly; it is based on pictograms, and it provides multiple marking possibilities: fixed texts, variable texts (dates, counters, teams, variables, etc.), logos, or DataMatrix(TM) codes, with flat, angular, radiating markings, etc.

Lastly, the XF510Sp and XF510Dp marking machines are particularly wide-ranging. They feature boards with 8 inputs and 4 outputs as standard, and RS232, USB and Ethernet ports. They can be controlled via Ethernet or RS232 links as required (exchanges of information concerning marking start, cycle end, cycle stop, machine ready for marking, marking in progress, etc.). The USB port is used mainly for backups, software updates, transferring marking files, logos and fonts, saving marking files, and so on.

TECHNIFOR Inc.

9800-J Southern Pine Boulevard

Charlotte,

NC 28273 - U.S.A.

LEE BELSHAW Samantha

Phone: 00 (1) 704 525 5230

sleebelshaw@usa.technifor.com

TECHNIFOR

114 quai du Rhone

01708 MIRIBEL

FRANCE

ELYACOUBI Mounira

Phone: + 33 4 78 55 85 81

melyacoubi@technifor.com

Related