Pneumatic Magnetic Drill Press suits hazardous environments.
Press Release Summary: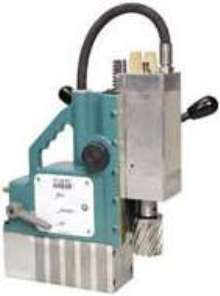 AIRBOR AB-4300-2R addresses safety concerns related to drilling holes in structural steel in hazardous atmospheres and/or wet environments. Motor and magnet are powered by compressed air and do not require electricity. Portable tool also features pressurized coolant system that lubricates drill bit and reduces risk of sparking. Built for heavy industrial use, 43 lb unit employs 1.6 hp air motor and air-powered magnet with 1,600 lb holding strength.
---
Original Press Release:
CS Unitec's AIRBOR Pneumatic Magnetic Drill is Safer for Twist Drilling in Hazardous Atmospheres
The AIRBOR AB-4300-2R Magnetic Drill from CS Unitec answers many of the safety concerns associated with the need for drilling holes in structural steel in hazardous atmospheres and/or wet environments. The motor and magnet of this portable Magnetic Drill are powered completely by compressed air - no electricity needed - allowing it to be used around water without fear of shock or blown circuitry. The safety of this tool is enhanced by the fact that the fail-safe permanent magnet will not disengage in the event of a loss of air flow. Furthermore, a pressurized coolant system lubricates the drill bit and reduces the risk of sparking. This model is ideal for use in petrochemical, oil, gas, marine, bridge repair, and other construction applications. AIRBOR can eliminate the waste of time and manpower lost in obtaining "Hot Work Permits" normally required to use electric drills in hazardous areas. The air-operated feature can assist in meeting tight deadlines during process shutdowns, turnarounds or other jobs where air tools are the norm. More durable than comparable electric-powered drills, the AIRBOR AB-4300-2R is designed and built for heavy industrial use. This lightweight (43 pound) CS Unitec Pneumatic Magnetic Drill has a powerful 1.6 HP air motor, and its air-powered magnet has a holding strength of 1,600 pounds. Because it has an extra-long 10-1/4" stroke, this drill can be used, as shown here, with a geared chuck adapter (Part No. IBK-18) and a solid twist drill. When thus converted to a drill press, it can drill up to 1/2" diameter holes in structural steel and other applications. In addition, the AIRBOR AB-4300-2R drills up to 2-1/16" diameter holes with Annular Cutters. For complete information on this Pneumatic Magnetic Drill Press, please contact CS Unitec by phone at (800) 700-5919, by fax at (203) 853-9921 or by email at info@csunitec.com. Or, visit the company's Web site at www.csunitec.com to view the complete CS Unitec industrial tool line.
Contact This Company Download Spec Sheet
More from Cleaning Products & Equipment