Pneumatic Expansion Gripper handles small, hollow workpieces.
Press Release Summary: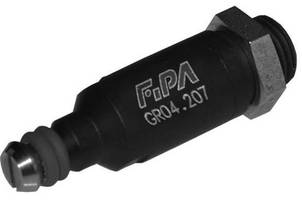 Able to handle components with hollow openings as well as those difficult to grip, Expander comes in mini design with immediate effect for gripping workpieces with 4.5-8.7 mm IDs. It works safely, even with non-circular openings, and can be used with all hollow shapes. To accommodate sensitive and thin-walled parts, gripping force can be controlled with help of supply pressure as required. Workpiece is held tight and safe as result of force directed outwards.
---
Original Press Release:

For Hollow Work-Pieces: FIPA Expansion Grippers Now Also Available in a Mini Version



Used for secure gripping of the smallest components / within all hollow shapes

A day that occurs frequently in gripper technology: Uneven injection molding parts made of plastic having various perforations must be removed from the mold. Alternatively, pipes need to be gripped securely. It is particularly for components having hollow openings and those difficult to grip that FIPA Inc. (www.fipa.com) offers the pneumatic expansion gripper, "Expander".

This gripper is now available in a mini design with immediate effect for handling particularly small work-pieces having an internal diameter of 4.5 to 8.7 mm.

The great benefit of the mini expansion gripper: It works safely even with non-circular openings and can, thus, be used with all hollow shapes. If special caution needs to be exercised for highly sensitive and thin-walled parts - the gripping force of the mini expansion gripper can be controlled with the help of the supply pressure as required.

Functionally safe principle of operation

Be it a round borehole, rectangular recess or a slot hole. Where other grippers cannot get a secure grip, the "Expander" penetrates into the part to be moved, expands uniformly once it is inside by axial compression of the elastomer, and holds the work-piece tight as a result of the force directed outwards. This functionally safe type of gripping finds immense application opportunities in day-to-day production facilities.

More convincing arguments for the cost-conscious: The elastomers that are made of NBR or highly heat-resistant silicone have a long life - if they, however, do get worn out, they can be replaced easily and cost-effectively.

Wide range of gripper components to choose from

"From the mini to the maxi, we strive to offer the most efficient solution at all times to our customers for their requirements in gripper assembling. In order to live up to this claim, we constantly supplement our standard product range of gripper systems and grippers and matching connectors. At present, this already includes more than 300 different gripper components", says Mr. Rainer Mehrer, CEO of FIPA.

Tom Herndon
General Manager
FIPA Inc.
102 Kingussie Ct
Cary, NC 27511
Phone: (800) 913-7002
Cell: (919) 244-1848
Fax: (919) 573-0871
mailto:therndon@fipa.com
mailto:sales.us@fipa.com
http://www.fipa.com

Warehouse
5000 West Park Drive, Suite 100
Atlanta, GA 30336
Fax: (678) 528-9530