Pneumatic Diaphragm Valves suit control applications.
Press Release Summary: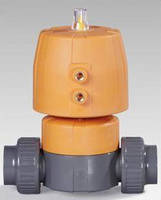 Ranging from ½-2 in., DIASTAR Valves offer linear flow and are available in wide selection of materials for chemical resistance. Units feature non-corrosive central union nut with pressure rating up to 240 psi. Rotatable air connections and pre-tensioned spring-kits facilitate installation and maintenance. Able to handle slurries and abrasive media, valves are suited for chemical process industry, microelectronics, water treatment, and food and beverage applications.
---
Original Press Release:

Pneumatic Diaphragm Valves DIASTAR



The new pneumatic Diaphragm Valves of GF Piping Systems represent a revolution in terms of safety, efficiency and simplicity.

Like the hand valves the new DIASTAR also has a central union nut. This connection is non-corrosive, temperature stable and high pressure rating up to 240PSI.

Because of the doubled Cv values the energy expenditure can be reduced considerably. At the same time the flow characteristic is very linear and thus ideally suited for control applications.

Features like rotatable air connections and pre-tensioned spring-kits facilitate installation and maintenance enormously. The accessory interface allows simple integration into facility automation.

Fields of Application:

o Chemical Process Industry

o Life Science

o Microelectronics

o Water Treatment

o Food and Beverage

o Measurement and Control

o Applications with high viscosity and solid content

Advantages:

o corrosion resistant and high pressure rating

o high efficiency due to doubled Cv values and linear valve characteristics

o linear control characteristic

o rotatable air connection

o wide selection of material for best chemical resistance

o safe and easy maintenance

o easy integration of a wide range of accessories

o suitable for slurries and abrasive media

Options:

o self adjusting electrical feedback

o stroke limiter / manual override

o pilot valves

o AS-Interface

o positioner

o valve cluster with bus-communication

Products:

o DIASTAR Sixteen: This type series has the highest closing forces, it is implemented wherever high line pressure, up to 240PSI, needs to be controlled. The DIASTAR Sixteen with integrated accessory interface is also your valve of choice if you place a great deal of importance on easy system integration.

o The DIASTAR Ten is ideal for all standard applications up to 150PSI that require integrating accessories. This version has an interface for accessories that allows you to link the actuator effortlessly to your system control. It also features an outstanding price-performance ratio and compact dimensions.

Standards:

o ISO, BS, ANSI, ASTM, JIS

Technical Data

Range: 1/2" to 2"

Connections: unions with solvent cement socket, threaded sockets, fusion socket, butt fusion spigot (Type 514 body) solvent cement spigots, socket fusion spigots, butt fusion spigots (Type 515 body) fixed flanges, loose flange (Type 517 body) branched valve with butt fusion spigots (Type 519 body)

Nominal Pressure: 240PSI for SYGEF Standard, SYGEF Plus, PVC-U special configuration
150PSI for PVC-C, PVC-U, ABS, PROGEF Standard, PROGEF Natural

Materials: PVC-U, PVC-C, ABS, PROGEF Standard, PROGEF Natural, SYGEF Standard, SYGEF Plus

Seal: EPDM, PTFE, FPM, NBR, IIR

Accessory: self adjusting electrical feedback, stroke limiter / manual override, pilot valves, AS-Interface, positioner, valve cluster with bus-communication

Mode of operation: FC, FO, DA

* depending on end connection and actuator, the nominal pressure can be reduced

More from Architectural & Civil Engineering Products