Cleaning Compounds and Chemicals
Pneumatic Cleaning Gun utilizes vortex technology.
Press Release Summary: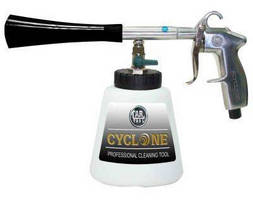 Suited for elimination of stains and use in difficult to approach areas, CYCLONE® series Z-020 combines high-speed rotating vortex with atomized liquid particles to simultaneously dissolve surface stains and power away dirt. Featuring 4,000 rpm rotation speed, gun will clean without damaging car paint. It incorporates sealed ball bearings, has all-metal body, and consumes only air and detergent.
---
Original Press Release:

3ST Launches New Generation Pneumatic Cleaning Gun Z-020



The cleaning tool, ideal for rapid elimination of stubborn stains and those areas difficult to approach, generates wild whirlwinds like tornado that sweeps aside everything with tremendous force.

(Keelung, Taiwan) Patented Z-010 high pressure vortex cleaning gun has been the favorite of consumers, but unfortunately there are also a lot of unreliable counterfeit goods on the market. Comfortably, this means that Z-010, for those who have problems with car-clean, it is a revolutionary product to the market.

The original intention we developed Z-010 is that if car-clean has become a routine, why not let this job be easier and more enjoyable? From now on, with our patented pneumatic cleaning gun, car-clean issues are able to be resolved so easily within a very short time.

It differs from traditional spray guns and blow guns. Spray gun is to and can only spray cleaner on surfaces where you wish to clean; and blow gun can only be used to blow away the dust, cannot remove other more stubborn stains. Patented Z-010 combines with high-speed rotating vortex and atomized liquid particles. Atomized liquid particles dissolve surface stains and high-pressure rotating air at the same time turns the dirt away.

We are pleased to bring you our brand new CYCLONE® series state-of-the-art patented pneumatic cleaning gun Z-020. We preserve the advantages of last generation, and improve it shortcomings. More powerful cleaning without damaging your car painting, rotation speed up to at least 4000rpm with sealed ball bearings, low noise in operation and long life, easy for placement with a hook, all-metal body. It takes full advantage of every drop of your detergent, saving your every nickel and dime. Z-020 high pressure vortex cleaning gun simply consuming air and detergent as the media, so it will minimize the consumption rate of supplies; moreover, we also offer brush set to meet all customer's various kinds of cleaning needs.

Please note that any products NOT sold by 3ST Industry Co., Ltd. are all pirated and illegal. Make sure you have a clear understanding of product origin, trademark (CARTOOL®, DD®, and CYCLONE®), and manufacturer before purchase. DD®, CARTOOL®, and CYCLONE® are our trademarks and all right reserved.

About 3ST
3ST Industry Co., Ltd. is a Taiwan professional supplier, our products including pneumatic, hydraulic, cordless, and hand tools, etc. 3ST always keeps in the track of improvement and we got strong and experienced R&D and Marketing team. We have been striving for new product developing, industrial grade and safety regulations' approval, patents' applications and registrations (at least 10 patents per year), production and quality control, website and paper advertising, and world-wide promotions as an exhibitor. Moreover, in order to offer you total solution, OEM/ODM service is also available. DD® and CARTOOL® are our trademarks and all right reserved.

For more product information, please visit our web http://www.3st-dd.com/