Pneumatic Actuator features corrosion-resistant components.
Press Release Summary: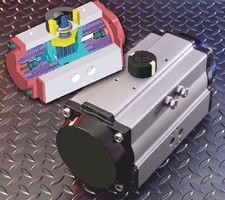 Utililizing low friction technology, Aero2 rack and pinion actuator is designed for universal operation of ¼-turn valves. Core components are stainless steel, baked epoxy, and hard anodized aluminum, preventing corrosion for exterior applications or where Chloride solutions, Oxidizing Acid, and Alkaline Media are present. Direct-mount actuator includes high-density bearings, bi-directional stroke adjustment, NAMUR manifold, and Versa view continuous indicator.
---
Original Press Release:

New Aero2 High Performance Compact Pneumatic Actuator



FOR IMMEDIATE RELEASE Friday, April 28, 2006

SVF launched its state of the art Aero2 High performance Compact Pneumatic Actuator to the USA market. This pneumatic rack & pinion actuator uses a minimum number of seals, low friction technologies, maximum gear face engagement and corrosion resistant components for a trouble free high performance valve automation.

The core components are made of stainless steel, baked epoxy, and hard anodized aluminum. These materials prevent corrosion especially for exterior installations or when liquids such as: Chloride solutions (sea water), Oxidizing Acid, and Alkaline Media are present.

This product features a direct-mount design so that actuators may be mounted to their line of "EZValves" without the use of mounting hardware. The valve has high performance TFM seats; live loaded stem seals and is available with pneumatic (aero Valve) or electric (electro Valve) actuators.

The compact design is ideal for high-density installations and connects with all of the common control accessories and "bus" devices. The combination of High density bearings, bi-directional stroke adjustment, NAMUR manifold, and Versa view continuous indicator make this dependable valve control actuator a critical function in demanding process schemes. The Aero2 actuator is designed for universal operation of all quarter turn ( ball, plus, butterfly) valves and comes with a full array of control options for ON/off and modulating service.

Technical CAD drawings, PDF files are data sheets detailing the measurements and specifications of Aero2 actuator are available from www.SVF.net or by requesting the new Aero2 Catalog.

About SVF
SVF is a leading manufacturer of High performance Ball Valves, actuators, and controls for all applications. The company is ISO 9001 and ISO 14001 compliant with many products being NSF & IQ net certified. The company specializes in Industrial valves, High Purity Valves, and Control Valves and Custom valves. The CleanFlow brand by SVF is known for its superior product design and quality. SVF has sales representation throughout the USA and sells globally.

For more information, please contact Wayne Ulanski, wulaski@svf.net, Direct Tel 908 499 3931

More from Fluid & Gas Flow Equipment