PMH-24V100WCNS Panel Mount Power Supply comes in a corrosion resistant aluminium casing.
Press Release Summary: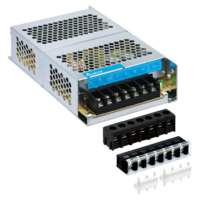 PMH-24V100WCNS Panel Mount Power Supply supports universal input from 85Vac to 264Vac. Unit offers low earth leakage current less than 0.75mA. Product features full power from -20°C to +50°C operation at 5000m altitude and can sustain line input voltage surge 300Vac up to 7 seconds. Suitable for household electrical appliances, this power supply comes with IEC/EN 60335-1, IEC/EN 61558-2-16 and IEC/EN/UL 60950-1 safety approvals.
---
Original Press Release:
Delta PMH Series of Panel Mount Power Supply with NEC Class 2 Approval for Household Applications
Delta Electronics extends the PMH series of panel mount power supply with 24V 91.2W output certified to NEC Class 2. The PMH-24V100WCNS accepts universal input from 85Vac to 264Vac in a full corrosion resistant aluminium body. Power will not de-rate across the entire input voltage range, providing full power even if the input voltage drops below the nominal voltage. The highly efficient convection cooling construction can operate from -30°C to 70°C and at a no-load power consumption less than 0.3W @ 115Vac and 0.5W @ 230Vac.
The NEC Class 2 model is specifically designed for household electrical appliances with safety approvals to pollution degree 3 as well as including IEC/EN 60335-1, IEC/EN 61558-2-16, IEC/EN/UL 60950-1 (with NEC Class 2). In addition, the product meets the EMC approvals to EN 55014-1 / EN 55014-2 for household appliances and EN 61000-6-1 / EN 61000-6-3 for residential environment without extra EMI filter required.
Highlights & Features
Household appliance approvals for pollution degree 3 to IEC/EN 60335-1, IEC/EN 61558-1 and IEC/EN 61558-2-16
Universal AC input voltage
Withstand line input voltage surge 300Vac up to 7 seconds
Full power from -20°C to +50°C operation @ 5000m or 16400 ft. altitude
Full corrosion resistant aluminium casing
No load power consumption < 0.3W @ 115Vac, < 0.5W @ 230Vac
Low earth leakage current < 0.75mA
NEC Class 2 certified
Please contact your local sales representative or distributor for product availability.
New models are introduced on a regular basis. For product details or enquiries, you can also visit www.DeltaPSU.com
About Delta Group
Delta Group, founded in 1971, is the global leader in power and thermal management solutions. Our mission statement, "To provide innovative, clean and energy-efficient solutions for a better tomorrow," focuses our role in addressing key environmental issues such as global climate change. As an energy-saving solutions provider, Delta's businesses encompass power electronics, energy management, and smart green life. Delta has sales offices worldwide with R&D centers and manufacturing facilities in Taiwan, China, USA, Europe, Thailand, Japan, Singapore, India, Mexico and Brazil.
Throughout its history, Delta Group has received many global awards and recognition for its business milestones, innovative technology and corporate social responsibility. Since 2011, Delta has been selected as a member of the prestigious Dow Jones Sustainability™ World Index (DJSI World) for 3 consecutive years. In 2013 it was also included in the DJSI Emerging Markets Index and ranked first in six criteria among DJSI's World-leading Electronic Equipment, Instrument and Component Companies segment.
For detailed information about Delta Group, please visit: www.deltaww.com.
Related