PMC Modules feature reconfigurable Xilinx Spartan-6 FPGA.
Press Release Summary: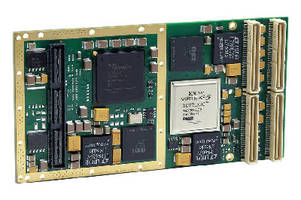 Suited for advanced signal processing applications, PMC-SLX Series employs SLX150 version of Spartan-6 FPGA, which provides 147,433 logic cells and 180 DSP slices. Modules provide 100 MHz 64-bit PCI-X interface, dual-ported SRAM to facilitate high-speed DMA transfers to bus or CPU, and 16 MB flash memory for onboard storage and loading of FPGA code. Ready for use in conduction-cooled systems, modules offer optional upgrade to extended temperature range of -40 to 85°C.
---
Original Press Release:

New PMC Module Uses Economical Spartan-6 FPGA to Reduce Cost of Complex Embedded Computing Tasks



Acromag's new PMC module features a reconfigurable Xilinx Spartan-6 FPGA to offer a cost-sensitive solution for advanced computing applications requiring custom logic, DSP, or algorithm acceleration.

Wixom, MI: To assist embedded system developers with ever-tightening budget and time constraints, Acromag introduced new PMC mezzanine modules featuring the cost-optimized Xilinx® Spartan®-6 FPGA. The PMC-SLX reconfigurable FPGA modules can save thousands of dollars, yet still deliver high-performance computing for algorithm acceleration and custom logic processing tasks. Spartan-6 FPGAs have integrated logic, DSP, and memory resources that leverage the flagship Virtex-6 FPGA platform's architecture and system-level blocks for quicker and smoother system development. Acromag adds a high-throughput PCI-X interface, large memory banks, and easy access to field I/O signals to deliver a ready-to-use FPGA computing module for advanced signal processing applications. Typical uses include hardware simulation, in-circuit diagnostics, communications, signal intelligence, and image processing. The base price is just $2895 with extra memory and extended temperature options available.

"The Spartan-6 FPGA is designed for cost-sensitive applications, but with abundant logic resources and high-speed DSP, it is more than capable for many mil-aero and industrial control functions" noted Rowland Demko, Acromag's national sales manager. To optimize system performance and enable cross-platform compatibility, Spartan-6 FPGAs use an efficient dual-register 6-input LUT logic structure, built-in system-level blocks, and DSP slices derived from the high-end Virtex-6 architecture. As part of Xilinx's targeted design platform, designers can leverage common design methodologies, development tools, and run-time platforms for greater cost savings and faster time-to-market. Likewise, Acromag's PMC-SLX support software is very similar to their other FPGA design kits to save additional time.

Field I/O interfaces to the FPGA via the rear J4/P4 connector and/or with optional front mezzanine I/O extension modules. 64 I/O or 32 LVDS lines are accessible through the rear connector. Acromag's plug-in AXM mezzanine cards provide additional I/O processing capabilities. A variety of these AXM mezzanine I/O cards are available to provide front-end 14-bit 105 MHz A/D conversions or an interface for CMOS digital I/O, RS-485 differential signals, or extra LVDS I/O lines.

All models employ the logic-optimized SLX150 version of the Spartan-6 FPGA which provides 147,433 logic cells and 180 DSP slices. Dual-ported SRAM (256k or 1M x 64-bit) facilitates high-speed DMA transfers to the bus or CPU. This memory provides direct links from the PCI bus and to the FPGA. 16MB flash memory enables on-board storage and loading of the FPGA code. The 100MHz 64-bit PCI-X interface ensures fast data throughput. PMC-SLX modules are ready for use in conduction-cooled systems and offer an optional upgrade to extended temperature range parts suitable for -40 to 85°C operation.

Acromag's Engineering Design Kit provides utilities to help users develop custom programs, load VHDL into the FPGA, and establish DMA transfers between the FPGA and the CPU. The kit includes a compiled FPGA file and example VHDL code provided as selectable blocks with examples for the local bus interface, read/writes, and change-of-state interrupts to the PCI bus. A JTAG interface allows users to perform on-board VHDL simulation. Further analysis is supported with a ChipScope(TM) Pro interface.
For easy integration of the boards with embedded Windows® applications, Acromag developed a DLL driver software package for compatibility with Microsoft® Visual C++(TM), and Visual Basic. Sample files with "C" source demonstration programs provide easy-to-use tools to test operation of the module.

For real time and open source applications, Acromag offers C libraries for VxWorks®, Linux®, and other operating systems. The libraries provide generic routines (source code included) to handle reads, writes, interrupts, and other functions. Demonstration programs enable the developer to quickly exercise the I/O modules before attaching the routines to the application program. This diagnostic tool can save hours of troubleshooting and debugging. The Linux example programs are a free download.

Acromag has designed and manufactured measurement and control products for more than 50 years. They are an international corporation with a world headquarters near Detroit, Michigan and a global network of sales representatives and distributors. Acromag offers a complete line of embedded I/O products including bus boards, mezzanine modules, wiring accessories, and software. Industries served include military, aerospace, manufacturing, transportation, utilities, and scientific research laboratories.

For more information about Acromag products, call Inside Sales at (248) 295-0310 or Marketing Communications at (248) 295-0310, FAX (248) 624-9234. E-mail solutions@acromag.com or write Acromag at P.O. Box 437, Wixom, MI 48393-7037 USA. The web site is www.acromag.com.

All trademarks are the property of their respective owners.

More from Controls & Controllers