Industrial / Specific Purpose Computers
PMC Module features four RS422/485 UART interfaces.
Press Release Summary: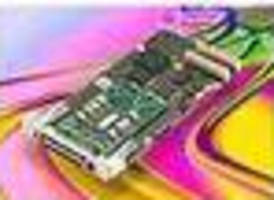 Qualified for extended temperature range of -40 to +85°C, 32-bit/33 MHz Model P507 supports full duplex and half duplex operation. Each channel of mezzanine module has its own 500 V isolation, making it possible to realize transfer rates up to 921,600 bit/s. All ports are available on 50-pin D-Sub front connector. UART functionality takes place inside onboard FPGA, which can be modified by implementing new IP cores to meet customer's requirements.
---
Original Press Release:

PMC Module with Four UART Interfaces for Fast Serial Data Transfer

32-bit/33-MHz PMC


4 UARTs


Full and half duplex, software programmable


Serial data rates up to 921,600 bits/s


Isolation between channels


-40 up to +85°C with qualified components

Nuremberg, Germany - September 23, 2009. MEN Mikro Elektronik presents a new PMC module with four fast RS422/485 UART interfaces. The P507 is qualified for the extended temperature range of -40 to +85°C, and prepared for coating against dust and humidity which makes it especially suited for safety-critical and mobile applications. Long-term availability at least up to 2019 is guaranteed.

Fast, Reliable and Flexible

The P507 is a 32-bit/33-MHz PMC module with four UARTs for fast serial data transfer. It supports full duplex (with RS422) and half duplex operation (with RS485). Each channel of this mezzanine module has its own 500V isolation, making it possible to realize transfer rates of up to 921,600 bits/s. All ports are available on the 50-pin D-Sub front connector.

The UART functionality of the P507 is realized inside its onboard FPGA which can be modified any time by implementing new IP cores in order to perfectly meet the customer's requirements. Following the USM(TM) (Universal Submodules) concept, the FPGA of the P507 is located on the main PMC, the line drivers are implemented on a submodule, the USM(TM).

The P507 can be used on any PMC compliant host carrier board in any type of bus system independent of the application, i.e. CompactPCI®, VME or on any type of stand-alone SBC in telecommunication, industrial, medical, transportation or aerospace applications. Optionally, it is possible to equip the PMC with its own intelligence via a Nios® softcore. These features combined with a long-term availability for at least 10 years and qualification for operation in the extended temperature range of -40 to +85°C guarantee flexibility and future-safety for the user's project.

MEN Mikro Elektronik - Profile and Mission

Since its foundation in 1982 our company designs and manufactures failure-safe computer boards and systems for extreme environmental conditions in industrial and safety-critical embedded applications. Our mission is to provide innovative solutions while maximizing reliability and flexibility.

With 200 employees and subsidiaries in France and the USA we have an annual revenue of 28 million Euros with an export share of about 50%. Customized solutions make for more than half of our revenue. In addition the standard product range includes far more than 100 different computer boards with Intel® Pentium® and multi-core processors and PowerPC® with the corresponding BIOS, BSP and driver software, manifold I/O boards and completely configured systems based on:


ESMexpress® and ESM(TM) Embedded System Modules


3U and 6U CompactPCI®, CompactPCI® Express and VMEbus


PMC, XMC and M-Modules(TM) as system-independent mezzanine I/O standards

The consistent use of FPGA technology gives us high flexibility when configuring customized and standard products.

Our products are used worldwide as control, measuring, test or simulation computers in all kinds of embedded applications. These comprise extremely safety-critical markets such as railways, including buses and commercial vehicles, aerospace technology or the medical industry, but also mechanical engineering, shipbuilding, telecommunications and the automotive industry. Computer systems in such applications are in operation up to 24 hours every day and often need to be available for 10 years and longer. Ideally no failures must occur to avoid costly downtimes of machines or danger to human life.

We are certified to EN 9100:2003 (aerospace), IRIS (railway), ISO 9001:2000 (quality management) and ISO 14001:2005 (environmental management) in order to meet the severe quality requirements in critical applications and to offer our customers the highest quality in products and services while considering environmental protection and occupational safety on the basis of a recognized quality management system.

Our aim is to constantly improve and to provide the highest technology and innovation level. Our business ethics is determined by the principles of the United Nations' Global Compact Initiative (human rights, labour, environment and anti-corruption).
MEN press documents are archived on this web site for historical purposes. Information in the documents is accurate at the time of release. However, product specifications and other specific information may change over time. Some information about product pricing and availability may be limited to specific geographic areas and may differ in other areas. Information as stated in the document may or may not be in effect after the date of the release.

More from Machinery & Machining Tools