PM Motor is rated for 160 deg C temperature rise.
Press Release Summary: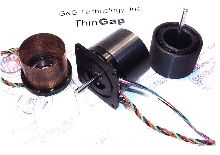 ThinGap(TM) TG3600 Series slotless brushless PM motor incorporates winding technology that eliminates eddy current and hysteresis losses. Maximum continuous torque of 115 oz-in. is achieved at 2400 rpm rated speed using input voltage of 24 Vdc and 15.6 A from PWM servo amplifier. Armature inductance measures below 10 microhenries and line-to-line resistance is 0.31 ohms @ 25 deg C. Motor measures 2.375 in. OD by 2.180 in. long.
---
Original Press Release:
Thingap Slotless Brushless PM Motor

The ThinGap(TM) TG3600 Series slotless brushless PM motor from G&G Technology of Ventura, CA, incorporates new winding technology that eliminates eddy current and hysterisis losses and achieves very high power efficiency over a wide speed range. A maximum continuous torque of 115 ounce-inches is achieved at 2400 rpm rated speed point using an input voltage of 24 vdc and 15.6 amps to the TG3600 motor from the specified PWM servo amplifier.

The thin wall of the stator coil allows a miniature air gap to be utilized in combination with the high energy Neodymium-Iron-Boron magnets to create a high power density brushless
PM motor. With no magnetic hysterisis, low speed cogging is non-existent. Armature inductance measures below 10 microhenries and line-to-line resistance is 0.31 ohms @ 25 deg C.

The TG3600 series is thermally rated for high performance operation up to 160 deg C temperature rise plus ambient conditions. Unit size measures 2.375" OD by 2.180" long. For further information, please contact ThinGap at (805) 477-9741, fax to (805) 477-9743, or visit our website at www.thingap.com.

509 Marin St. #221; Thousand Oaks, CA 91360; (805) 496-8501; FAX: 805-496-6323; E-mail: DJones9352@aol.com
More from Agricultural & Farming Products