Ply-Guard UR Polyurea Coating System is chemical resistant.
Press Release Summary: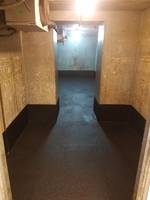 Ply-Guard UR Polyurea Coating System can be applied directly to metal, concrete, wood, fiberglass, and geotextiles. Unit consists of fast set, potable water, aluminized and joint filler variants. Ply-Guard UR fast set variant comes with monolithic waterproof membrane whereas potable water meets NSFANSI 61 standards. Ply-Guard UR aluminized option is suitable for industrial and commercial roofing applications and joint filler version is designed to protect industrial concrete floors.
---
Original Press Release:
PLY-Guard UR - Polyurea Coating System for Concrete, Steel, Wood, and Fiberglass Surfaces
Polyset, a leading manufacturer of high performance coating systems, offers a two-component, rapid curing, spray-applied polyurea coating/lining system that is 100% solids and 0 VOC.
Ply-Guard UR can be directly spray-applied (or with the aid of a primer) to metal, concrete, wood, fiberglass, and geotextiles. Ideal for industries with both foot and heavy machinery traffic, Ply-Guard UR exhibits excellent abrasion and impact resistance, as well as very good chemical resistance.
Industries:
Marine
 Food & Agriculture
Structural Steel and Concrete
Storage Tanks
Mining
Pipelines
Roofing
Truck Bed Linings
Flooring and Parking Decks
Aquariums
Other Ply-Guard UR products include:
Ply-Guard UR (Fast Set) is a fast set, polyurea coating system with durable seamless, monolithic waterproof membrane
Industries: Mining Gas & Oil | Military | Storage Tanks
Ply-Guard UR (Potable Water) is a polyurea lining system specifically formulated for potable water applications meeting NSFANSI 61, creating a monolithic, seamless lining that conforms to any shape and size
Industries: Potable Water Management | Water Features | Wastewater
Ply-Guard UR (Aluminized) is formulated for commercial and industrial roofing applications, containing UV stabilizers and leafing aluminum pigment for excellent UV stability. It has excellent adhesion to metal, wood, foam, concrete, BUR, and various roofing materials.
Industries: Industrial & Commercial Roofing Applications
Ply-Guard UR (Joint Filler) is a self-leveling polyurea joint filler that is formulated to protect industrial concrete floor joints from spalling under hard wheels or heavy machinery
Industries: Parking Decks
ABOUT POLYSET
Polyset is a technology-driven materials company with a philosophy of designing exceptional resin systems to meet the needs of the customer by maximizing the performance of the product within the cost parameters of the project. As a global market leader for more than 30 years, Polyset's diversified product lines include polyurethane adhesive, elastomer and foam systems for the industrial air filtration industry, state-of-the-art expansion joint systems for the construction industry, protective coatings for the industrial, marine and offshore markets, and cationic catalysts for epoxy-curing applications.
Contact:
Denise Czerpak
Marketing Communications Director
Polyset Company
65 Hudson Avenue
PO Box 111
Mechanicville, NY 12118
Phone: 518.664.6000
Email: d.czerpak@polyset.com
More from Mechanical Power Transmission