Plumbing Pipe is corrosion-resistant.
Press Release Summary: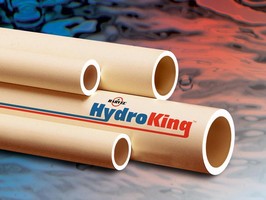 HydroKing(TM) CPVC pipe meets ASTM D2846 requirements and is manufactured to SDR 11 specifications. Copper-tube-size 1/2-2 in. pipe is suited for both hot and cold water plumbing systems. Meeting NSF Standards 14 and/or 61 for quality and health effects, pipe does not contribute harmful substances to transported potable water.
---
Original Press Release:

Harvel Introduces HydroKing CPVC Plumbing Pipe



High-quality CTS Piping for Hot & Cold Water Applications

Easton, Pa.: Harvel® Plastics, Inc., introduces its HydroKing(TM) CPVC plumbing pipe, a high-quality line of copper-tube-size (1/2"-2") piping that excels in hot and cold water applications.

In comparison to copper plumbing pipe, HydroKing(TM) offers superior corrosion resistance and a substantially lower installed cost with reliable solvent-welding joining techniques. Independent lab testing has proven Harvel HydroKing(TM) consistently exceeds other commonly used CPVC brands for impact resistance by as much as 12 to 43 percent.

HydroKing(TM) pipe is manufactured in strict compliance with requirements set forth in ASTM D2846 for materials, workmanship, dimensions, tolerances, pressure-bearing capability, and thermocycling resistance. In accordance with the standard, HydroKing(TM) pipe is manufactured to SDR 11 specifications.

HydroKing(TM) meets the requirements of NSF Standards 14 and/or 61 for quality and health effects. In addition to physical performance testing for product quality, this testing ensures that HydroKing(TM) neither contains nor contributes harmful substances to transported potable water. HydroKing(TM) is approved by major building codes as an acceptable material for plumbing systems. Visit www.harvel.com or call 610-252-7355 for more information.

About Harvel
Harvel Plastics, Inc., is a leading U.S. manufacturer of high-quality PVC and CPVC industrial piping and duct systems and thermoplastic extrusions, including fire sprinkler piping, Harvel LXT® ultrapure water piping, FlameTech(TM) low flame and smoke containment piping, and Harvel Clear(TM) PVC piping.

Editorial and technical contacts:
Patrick M. Foose or Bill Weaver

Harvel Plastics, Inc.
P.O. Box 757
Easton, PA 18044-0757
610.252.7355 (tel)
610.253.4436 (fax)
www.harvel.com (website)
harvel@harvel.com (e-mail)

More from Electronic Components & Devices