Pluggable Terminal Blocks feature push-in-design.
Press Release Summary: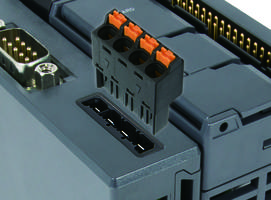 Pluggable Terminal Blocks are available in different sizes with pitch range from 2.54-6.35 mm and wire ranging from 30-16 to 24-12 AWG. Rated at 16 A at 300 Vac and 20 A at 600 Vac, units are offered in mini-type (0225, 0226 and 0227) and bi-level compact structure (0181, 0156 and 0159). Terminal blocks offer V-type spring, S-Cage single, double and rail type connection methods. The mini type models come in ultra-thin housing and are in 7 mm height.
---
Original Press Release:
Dinkle Announces Pluggable Terminal Blocks
Terminal blocks plug into a mating socket, with a patented push-in-design for connecting wires to the blocks.
Dinkle International announces the availability of its pluggable terminal blocks, a series of products with a unique push-in-design for connecting wires to the terminal blocks.
A pluggable terminal block is composed of a plug and a mating socket. The socket is usually attached to a printed circuit board through pins. The plug fits into the socket, and the wires connect to the socket via Dinkle's patented push-in-design. This design improves upon traditional screw terminals in terms of efficiency, ease of use and space savings.
Screw terminals take time to tighten properly, and there is always the danger of under torqueing and loose connections, or over torqueing and stripped screw threads. By contrast, wires connected using Dinkle's push-in-design technology assure a secure connection, with about 75% less time required per wire installation.
Connecting a solid wire with push-in-design takes only 3.6 seconds, compared to 13.5 seconds for a screw connection. A flexible wire takes just 4.1 seconds to connect, while a screw terminal takes 14.4 seconds. A flexible wired with a ferrule takes only 3.7 seconds to connect, compared to 13.2 seconds for a screw terminal.
Pluggable terminal blocks are available in a wide variety of sizes and ratings. Pitch varies from 2.54-6.35 mm, with wire ranges from 30-16 to 24-12 AWG. Current ratings are 5-8 amps at 150 Vac, 8-16 amps at 300 Vac, and 20 amps at 600 Vac. Connection methods are V-type spring (not patented), or patented S-Cage single, double and rail type. Value-added customization services include label printing, and supplying blocks in assorted color combinations.
An LED at each connection point is on when current is flowing through the wire, with LED light pipes integral to the terminal block assemblies used to ensure each LED is clearly visible. This indication provides quick visual confirmation of active connections and is very useful for troubleshooting.
Mini type pluggable terminal blocks include the 0225, 0226 and 0227 series. The 0225 series has an ultra-thin housing with a 7mm height, able to accommodate a broad cross section of 1.5 mm² wire. Various selections of mounting methods contribute to a vibration-proof, secure connection. These terminal blocks are well suited to installation within PLCs, I/O modules, signal panels, etc.
The series 150 pluggable terminal blocks are rated at 16 amps at 300 Vac and 20 amps at 600 Vac. These high-current terminal blocks are resistant to elevated levels of vibration, with a stopper mechanism to avoid overloading. An innovative smart clip facilitates quick plugging and unplugging. The terminal blocks have an ultra-mini housing with a height of 13.80mm. Typical application include motion control components such as servo and stepper drives and amplifiers.
The series 0181, 0156 and 0159 pluggable terminal blocks have a bi-level compact structure to provide space saving and cost effectiveness. The 0156 and 0159 series provide for different printed circuit board layouts to fulfill various market demands and applications. Assorted options of plugging/unplugging methods are available including lock & release, smart clip and screw flange.
Dinkle's products have various safety approvals including UL, CUL, CSA, VDE and GB. The material used for manufacturing is compliant with RoHS and REACH environment standards set by EU. For more information, please visit Dinkle online at www.dinkle.com.
About Dinkle International
Founded in 1983, Dinkle is the largest terminal block manufacturer in Asia, with headquarters in Taipei and offices in over 40 countries. Since 1995, Dinkle products have been made at their Electrical R&D center and CNAS-certified laboratory in Kunshan, China. Dinkle's products are used in industrial automation applications across many sectors including discrete part manufacturing, machinery, process plants and transportation. All Dinkle factories have received ISO 9001 and ISO 14001 certification.
Contact:
Albert Yang
Sales Manager
(832) 539-4768
More from Architectural & Civil Engineering Products