Pluggable Connector is suited for modular wiring systems.
Press Release Summary: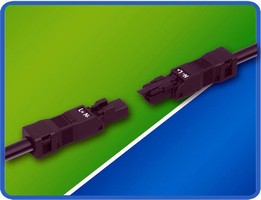 WINSTA® MINI 890 Series is offered as cord-end plugs and sockets as well as snap-in variants for through-panel mounting and distribution blocks. It fits through 5/8 in. (2-pole) or 7/8 in. (3-pole) knockouts and has voltage/current rating of 600 V/10 A. Connector features CAGE CLAMP®S Spring Pressure Connection Technology that terminates all conductor types, and tool-free PUSH WIRE® direct insertion of solid or ferruled-stranded conductors AWG 22-16.
---
Original Press Release:

MINI Size, Maximum Impact: WAGO WINSTA MINI 890 Series Modular Wiring System Safely Simplifies Electrical Wiring



Germantown, WI - October 2008 - Wire more in less time. WAGO Corporation's newest pluggable connector for modular wiring systems, the 890 Series WINSTA® MINI, brings convenient PUSH WIRE® terminations to modular electrical wiring. The 890 Series consists of 2- and 3-pole variants; a 5-pole variant will launch in 2009.

The 890 Series completes the WINSTA® family, which includes the mid-size MIDI, high-current MAXI and several additional specialty connector systems. Engineered for compact applications, the versatile 890 Series WINSTA® MINI is offered as: cord-end plugs and sockets, snap-in variants for through-panel mounting and distribution blocks.

Ultra-compact, the 890 Series WINSTA® MINI fits through 5/8" knockout (2-pole) or 7/8" knockout (3-pole) and features a voltage/current rating of 600V/10A - best in class relative to its size. CAGE CLAMP®S Spring Pressure Connection Technology terminates all conductor types, with the additional advantage of tool-free, PUSH WIRE® direct insertion of solid or ferruled-stranded conductors AWG 22-16. This eliminates expensive crimp tools, special crimp-on terminals and time-consuming preparation.

Safety is a priority for the 890 Series, which provides a preceding ground pin for make first/break last safety. This safeguards sensors and actuators, compact lighting systems (e.g., LEDs), as well as lightning in temporary exhibits and modular workstations.

A comprehensive strain relief system features housings that snap together and includes an integral cord clamp. Locking latches prevent inadvertent disconnection of the mated pairs. Housing is available in black, white and gray, with on-unit pole identification.

"Prefab and pre-wired popularity is driven by market demand for simplified wiring, quicker installations and lower overall costs," said Cory Thiel, WAGO Product Manager - Interconnect. "With the 890 Series joining the WINSTA® line, WAGO now has a pluggable solution for virtually any modular installation."

WAGO is the leader in spring pressure connection technology that eliminates loose wires resulting from vibration and temperature cycling, while providing highly reliable, corrosion-resistant and maintenance-free connections. Products: DIN-rail, PCB and chassis mount terminal blocks; signal conditioners; WAGO-I/O-SYSTEM and more.

For more information contact WAGO: 1-800-DIN-RAIL or e-mail: info.us@wago.com .
www.wago.us

Product-specific Web Page: http://www.wago.us/products/327.htm