Plug-in Duplexors offer SOSO functionality.
Press Release Summary: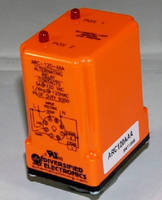 With Sequence On Simultaneous Off 3-input functionality, 8-pin ARC/ARD Series detects float switch inputs, from which it determines necessary outputs to turn on with line voltage. As lag and lead switches open, load remains energized. When all switches are open, both loads de-energize simultaneously and lead load alternates. Units feature 120 Vac control voltage, as well as SPDT 2-line voltage outputs with contact rating of 10 A 1/3 hp at 120 Vac (combined output).
---
Original Press Release:

ATC Diversified Electronics Introduces 8-Pin Plug-in Duplexor with Sequence On Simultaneous Off (SOSO) Functionality



Newell, West Virginia, USA - ATC Diversified Electronics, a division of the Marsh Bellofram Group of Companies, today announced the global market introduction of its ARC/ARD Series.



The ARC/ARD Series is an 8-pin plug-in duplexor, featuring sequence on simultaneous off (SOSO) three-input functionality.  The duplexor is designed to detect float switch inputs, from which it determines the necessary outputs to turn on with line voltage. As the lag and lead switches open, the load remains energized. When all switches are open, both loads de-energize simultaneously and the lead load alternates. The ARD series has a three-position switch from which it provides the option to lock it either into normal duplexing action, 1-2 sequence or 2-1 sequence.



Units feature a 120 vac control voltage, as well as SPDT two-line voltage outputs with a contact rating of 10a 1/3 hp @ 120 vac (combined output). They are easy to install and maintain, and feature UL recognized cURus. Typical applications for the ARC/ARD Series include water and wastewater, lift stations, water feeding, municipal water and wastewater treatment facilities, and industrial pumps.



For more than 50 years, the ATC Diversified Electronics division of Marsh Bellofram has offered some of the industry's highest reliability AC current monitors, motor and pump protection, isolated switches and alternating relay products. As a leader in solid state control products, the division was the industry pioneer in the first Phase Monitor Relay designed to protect 3-phase equipment from adverse conditions such as Phase Loss (single phasing), Under Voltage (brown-outs), and Phase Reversal (improper sequence). Continued investment in new product R&D and continuous quality improvements allows ATC Diversified to offer market-leading technologies, keeping pace with the needs of an evolving industrial marketplace. For more information about the ARC/ARD Series or other products available from the ATC Diversified division of Marsh Bellofram, visit www.marshbellofram.com.



Link to Product Page and Datasheet Download:

http://www.marshbellofram.com/diversified-electronics/products/arc-ard-series-8-pin-plug-in-pump-duplexor/

More from Electrical Equipment & Systems