Plug converts sensors into controllers.
Press Release Summary: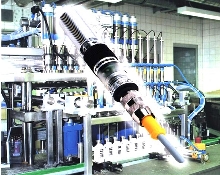 SmartPlug adds control functions such as timing, counting, inverting and speed monitoring to sensors. Approximately 2 in. long, it connects between cable and sensor. Programming is done via teach input device available separately. Inverter version converts PNP input signal to NPN or vice versa, or NO to NC. Timer is programmable from 1 ms to 65 sec. Counter is programmable to count pulses or intervals. Speed Monitor checks for over or underspeed.
---
Original Press Release:
SmartPlug Quickly Converts Your Sensors Into Timers, Counters and Speed Monitors

Minneapolis, MN - TURCK Inc. introduces a new control component - the SmartPlug. Quickly plug new functionality to your sensors and solve control problems on existing installations and without re-programming your PLC! By simply plugging SmartPlug into your sensor or switch, you can add control functions such as timing, counting, output converting and speed monitoring. Approximately two inches in length, the SmartPlug is connected to quick disconnect style sensors between the cable and the sensor. Programming is done through a simple "teach" input device available from TURCK.

SmartPlug is available in four functions - Inverters, Timer, Counter and Speed Monitor, useful for any 3-wire DC devices. The Inverters convert a PNP (Sourcing) input signal to NPN (Sinking) or vice versa. It can also invert the function of the sensor from Normally Open to Normally Closed. The Timer style is programmable with a range of 1 ms to 65 seconds On or Off-delay of the output and can also be used as a pulse stretcher. The Counter style is easily programmable to count pulses or intervals and produce a reliable output ranging 0 to 65535 in number. The Speed Monitor is a programmable device for over or underspeed rotation monitoring with a frequency range of 0.015 Hz to 1 kHz. After programming, the output is activated if the speed changes by 5%.

SmartPlugs can be combined in series to provide multiple functions, such as a speed monitor with a time delay. All versions can be used as a switching amplifier, providing output currents up to 400 mA. From your toolbox to the application, SmartPlug is easy to install and program compared to more complex timers and counters and is an effective solution in tight spaces to previously installed sensors. For more information and pricing, please contact TURCK Inc. as listed below.

TURCK is a leading supplier of advanced sensing solutions to help manufacturers improve their automated processes, products and profits.

More from Material Processing