Plug and Play RFID Reader with a Built-in Antenna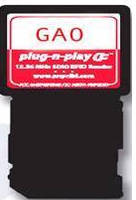 Toronto, Canada - GAO RFID Inc. (www.GAORFID.com) has released this plug and play SD Card RFID reader operating at the frequency of 13.56MHz. It is utilized for contactless, cashless payment, public transportation, consumer retail, event management, pharmaceutical and healthcare and access control and can be used with smart phones and PDAs. This practical RFID reader eliminates the complexity of RFID integration by using secure Plug and Play technology.

This practical RFID reader, model 223002, has a secure digital (SD) interface and supports data structures including STX, DATA, CR and LF. RFID Transponders compliant with ISO14443 A&B, ISO 15693, ISO18000-3, INSIDE PicoTag(TM), HID iClass, Tagsys C320, MIFARE, FeliCa(TM), KSW TempSens and KSW Variosens standards can be read. The SD card reader has a maximum read distance of 6cm and supports multi-detection. It accurately identifies tag IDs at a fast baud rate of 115,000bps without flow control.
Visit www.GAORFID.com for more information.

For any sales inquires please contact:

1-877 585-9555 ext. 601 - Toll Free (USA & Canada)

1-416 292-0038 ext. 601 - All Other Areas

[email protected]

About GAO RFID Inc.

GAO RFID Inc. (www.GAORFID.com) is a leading provider of RFID Readers, RFID Tags and RFID software providing cost saving solutions to end users worldwide. GAO offers all RFID technologies: Low Frequency (LF), High Frequency (HF), Ultra High Frequency (UHF, Gen 2) as well as Active and Semi-Passive. GAO RFID's products and services are easily customized for use in asset tracking,healthcare, supply chain & logistics, event management, access control, livestock tracking, inventory control & management, field service maintenance and document authentication.