Pliers and Cutters feature task-specific designs.
Press Release Summary: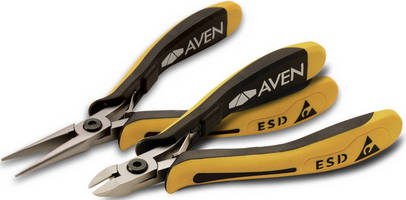 Available in 34 models, Accu-Cut Cutters are offered with blades with alloy steel, stainless steel, or alloy steel with tungsten alloy edges, in semi-flush, flush, or razor flush blade edge varieties. Produced in 5 styles, Accu-Cut Pliers include chain nose with long or short jaw, needle nose, round nose, and flat nose models. All tools have dual leaf springs for smooth, consistent operation and feature ergonomic handles with cushioned safety grips to avoid ESD damage to electronics.
---
Original Press Release:

Aven Accu-Cut: Task-Matched Cutters and Pliers Are Introduced



Selecting an ideal hand tool for detailed jobs is determined by size, strength, shape and sharpness. Having varied models within reach enhances precision, safety and efficiency.

That's why Aven developed Accu-Cut Pliers and Cutters, an extensive new line designed for the diverse needs of electronics fabricators, telecom technicians, skilled trades specialists and repair personnel. Task-tailored choices of blade materials, cutting edges, head shapes and designs assure the best tool is available for each purpose.

Aven added three dozen Accu-Cut models to its online catalog and will introduce them at the Medical Design & Manufacturing (MD&M) West exposition in Anaheim, Calif., from Feb. 9-11.

"Professional-grade cutters and pliers made by us in the United States let users match tools and tasks perfectly," says Michael Shahpurwala, president of Aven, Inc. "There's no need to compromise."

All 34 varieties of rugged cutters and five pliers have dual leaf springs for smooth, consistent operation and ergonomic handles designed in Germany for comfort. Cushioned safety grips help avoid electrostatic discharge (ESD) damage to electronics.

Specs Fit Critical Needs

Accu-Cut Cutters are available with three blade options tailor-made for specific applications in assembly, semiconductor fabrication, aerospace, telecommunications, wire harness manufacturing and other industries:

o Alloy steel: Hard blades have durability for as many as hundreds of thousands of cuts.

o Stainless steel: Reduce process compromise risks from rust and carbon alloy contamination in clean rooms, biotechnology, pharmaceutical and aerospace settings.

o Alloy steel with tungsten alloy edges: Cut fine hard wire made from stainless steel, nickel, Nitinol or tungsten without nicking the tool.

Three blade edge varieties - semi-flush, flush or Razor Flush -- are offered on nine cutters. In addition, all four stainless steel models come with semi-flush or flush edges.

Semi-flush models have the longest cutting life and produce a small pinch on the tip of snipped wire, thanks to an edge bevel. Flush cutters have a minimum bevel, while the Razor Flush design leaves no pinch.

A further consideration involves head shape, with oval, tapered and angulated alternatives that allow cutting in small spaces and confined areas. Selected models have long or short handles, with a relief head or standard design.

Circuit Board Convenience

Specialty items for SMT applications include a subminiature tip cutter with Razor Flush edges for removing individual leads from fine-pitch components, perhaps under a microscope. An angulated mini-cutter has a tiny, relieved cutting head for optimal access in ultra-fine cutting situations.

At the opposite extreme, an angulated large cutter with Razor Flush edges handles several leads in a single cut.

Accu-Cut Pliers are produced in five styles by the same Michigan-based global supplier of high-performance tools and electronics. A chain nose model is offered with a long or short jaw. The longer version can be selected with smooth or serrated inner grips.

Needle nose, round nose and flat nose Accu-Cut Pliers, each with smooth jaws, also are suited to specialty operations.

In addition to industrial and technology applications, Aven's pliers and cutters are practical for jewelry designers, watchmakers, camera repair shops, stringed instrument work, model making and fine crafts.

"Our best-in-class shop tools meet the same standards of quality, reliability and value as Aven microscopes, video inspection systems, smart tweezers and other precision products," says Shahpurwala.

Details on the nearly 40 models are available from an online catalog at www.aveninc.com or by calling (734) 973-0099.

Visit Aven at Booth 866 of the Medical Design & Manufacturing (MD&M) West exposition Feb. 9-11, 2010 in Anaheim, Calif.

Aven, Inc. manufactures and distributes high-performance precision tools and optical systems for industrial, scientific, research and education applications. More than 750 products include video inspection systems, integrated portable microscopes, video borescopes, task lights, stainless steel tools for lab use and precision hand tools such as tweezers, pliers, cutters, screwdrivers, crimpers, knives and alignment tools.
Brands include Mighty Scope, iLoupe, iVue, Accu-Cut and Athlet.

An electronics innovator since 1983, Aven is located in a high-tech corridor of Southeast Michigan and is the parent company of SharpVue, which designs and manufactures integrated digital microscope technology.

More from Explosives, Armaments, and Weaponry