Plexus Galvanized Bonder Adhesives for bonding hot-dip G60, G90.
Press Release Summary: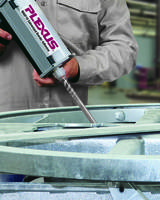 Used to bond dissimilar substrates without requiring primers, Plexus Galvanized Bonder Adhesives cure instantly at room temperature. After curing, adhesives are strong and tough with resistance to sheer, peel and impact. Materials doesnot require external fasteners once cured. Product bonds galvanized metals like G60 and G90, plastics, composites, steel and aluminum.
---
Original Press Release:
Advanced Adhesives Permanently Bond Galvanized Metals
New Plexus Galvanized Bonder™ Adhesives from ITW Polymers Adhesives North America are specially formulated with no inhibition to zinc to bond hot-dip G60, G90, and most other galvanized metals.  Ideal for bonding dissimilar substrates, these low-VOC 1:1 ratio methacrylate adhesives require no primers and little or no surface preparation, and cure rapidly at room temperature.  Once cured, they exhibit superior strength; toughness; sheer, peel, and impact resistance; and fatigue endurance.  Galvanized Bonder™ Adhesives eliminate the need for mechanical fasteners, simplifying and speeding industrial and transportation assembly.
These new adhesives expand the Plexus line to include structural adhesives that bond galvanized metals, as well as plastics, composites, steel, and aluminum. Plexus MA8110 Adhesive is designed primarily for bonding galvanized metals including G60 and G90, but can be used on other metals.  Plexus MA8120 Galvanized Bonder Adhesives are formulated for bonding hot-dip and electrogalvanized steel to non-galvanized metals, engineered plastics, and composites.
Established in 2013, ITW Polymers Adhesives North America (ITW PANA) combines the operations of the Devcon®, Plexus®, and SprayCore® brands into a single team, dedicated to customer value through adhesive innovation, quality, service, and delivery.  Headquartered in Danvers, Massachusetts, ITW PANA develops core global solutions that address market needs through improved products, line extensions, and customer-focused collaboration to improve methods, processes, EHS, and equipment.
For more information, contact: David Bongiorni, Business Development Manager/Distribution,
ITW Polymers Adhesives North America, 30 Endicott Street, Danvers, MA 01923, TEL: (978) 646-5610,
e-mail: DBongiorni@itwadhesives.com, www.itwadhesives.com.
More from Materials